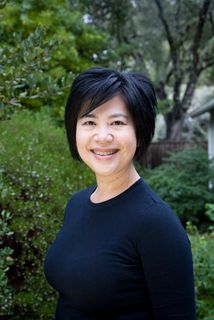 Andrea Nguyen is an author, freelance writer and cooking teacher based in Northern California. A contributing editor to SAVEUR magazine, her work also appears in the Los Angeles Times and San Jose Mercury News. She runs the popular website Viet World Kitchen.
Andrea is the author of Into the Vietnamese Kitchen, which was published by Ten Speed Press in October 2006. A landmark publication with over 175 recipes, the work was the first comprehensive full-color cookbook devoted to Vietnamese food in the English language. The book was among the select finalists for a James Beard Foundation award (best Asian cookbook) and two International Association of Culinary Professionals awards (best first book and best international book).
Her second book, Asian Dumplings, was published by Ten Speed in August, 2009 and was ranked by NPR as one of the top ten cookbooks of 2009, a top pick from Cooking Light magazine and is a finalist for the 2010 IACP Cookbook Awards (Best Single Subject Cookbook).
---
1. What was the first cookbook you owned?
The Whole World Cookbook (Scribner's, 1979) — my family got it through the Book of the Month Club deals. My sisters and I took turns joining so we could amass a bunch of cookbooks. I read this 1,500-recipe volume after school like other kids read Beverly Cleary books. I had never tasted chicken Veronique, moussaka, or clams with black bean sauce but began imagining how the ingredients came together.
The Whole World Cookbook was put together by 101 Productions, a small California-based publishing house. It was a book of their best recipes. They saw world cuisine before it existed. They didn't do fusion cooking but they were gutsy enough to put these seemingly disparate cuisines next to each other. That's how many of us live and eat today. I was fortunate enough to have had the copy editor of that book copyedit my first book, Into the Vietnamese Kitchen.
2.    What cookbook would you say had the greatest impression on you?
I own two copies of Irene Kuo's The Key to Chinese Cooking (Knopf, 1977) because if I lost one, it would be a tragedy. Kuo's book is a classic work. Her writing is clear, her flavor combinations nuanced, and her kitchen knowledge practical. Much of what she said over 30 years ago still hold true today. The good thing is that we have a much wider range of good Asian ingredients to cook with. Her book taught me tons about what makes a good cookbook. Judith Jones edited that book.
3.    Could you talk a little about any recent cookbooks you've found particularly interesting or inspiring?
David Thompson's Thai Street Food is huge – weighing in at about 8 pounds. The photos are insightful and the recipes are priceless. The book was just released late last October abroad and will be available in the U.S. in September.
Thompson's first book, Thai Food, is a terrific reference book but the recipes are rather impressionistic and difficult to follow. You can cook from Thai Street Food, however. The recipes offer cultural linkages between Thailand the rest of Asia. The flavors are exceptionally good.
4.    Is there one recipe in particular from your new book, Asian Dumplings, you'd suggest as representing the book particularly well?
The cover shot of the vegetarian crystal dumpling reflects Asian Dumplings well. It's a dumpling that originated in China, traveled to Southeast Asia and become a staple in Singapore. Asian dumplings don't stay in one place. They move around and get adapted and adopted. It's a favorite dim sum and street food item. Dumplings can be enjoyed in many situations.
The translucent skin is made from 4 simple, humble ingredients. It features white, stiff wheat starch (essentially a byproduct of wheat gluten, a vegetarian staple) that's tempered by elastic tapioca starch and softened by water and oil.  You can mold that wrapper (the same as for har gow) into a multitude of shapes. Some dumpling masters sculpt the Play-doh like dough into animals. Dumplings are humble and playful.
As for the filling, it can be vegetarian or combine pork, dried shrimp, vegetables, and peanuts. Dumplings are nimble foods. There's a dumpling for every mood and palate.
The vegetarian crystal dumplings and their surf-and-turf cousins called Chiu Chow dumplings are not often well prepared at dim sum houses abroad. Making them at home is not difficult and you can ensure a nice supply. Many dumplings freeze well.
5.    I'm curious about how the process of creating a cookbook has changed now that so many writers are active online. Could you talk a little about how your website, print articles and cookbooks connect to each other?
Creating a cookbook – which includes developing, publishing and marketing the work – is more exciting than ever. It's fast paced these days but having a multimedia platform enables me to practice my craft and engage with readers and cooks on many levels.
My websites let me publish information that I know will help further inspire readers to dive into my cookbooks. And if there's something I couldn't put in the books, I'll put it online. Sometimes people make requests or helpful suggestions and I respond accordingly with a post.  There are also philosophical discussions, such as "What is faux pho?," that I want people to respond to.
I develop my sites as information hubs where visitors can contribute insights. We exchange information. I also get to play with photography, video and audio. It's community building, communication, education, and art all wrapped into one.
Twitter and Facebook are very immediate forms of outreach. It's a different style of writing than for print. However, I'm practicing my writing – how to communicate my points effectively in short-hand.  That helps me when I'm drafting my lead sentence in a print piece or a recipe headnote. Social networking is akin to participating in a virtual cocktail party.
But self-editing online content is not the same as being edited and working with a team of professionals on a print project. Print is forever. The stakes are higher. You reach a different audience.
And every time I work on a print project, I learn from my colleagues. I become a better writer.