This is the first of an irregular series of articles about cookbooks I'm working through. These are the books that have come off the bookshelf and are either being actively cooked from or are being added to my 'to-cook' list for the very near future. I'll also be writing soon about new books I'm interested in, but which haven't made it into active rotation yet. If any books have been provided as review copies by publishers, this will be noted in the article.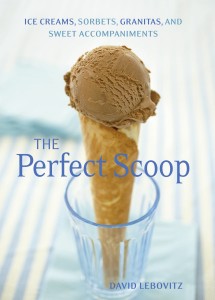 The Perfect Scoop, David Lebovitz
The original ice cream tour de force, I'm just getting into this as summer approaches (or at least threatens to approach, considering how damp it's been on the West Coast so far). I made his Philadelphia-style chocolate with a 66% cacao chocolate I've been trying out, rather than the unsweetened chocolate he recommends and it was almost too dark for my kids; a very adult flavour. I have a feeling they might have balked at the original version, but as an adult dessert it gets high marks.
He's comprehensive enough to provide Philadephia-style recipes for the major flavours, which is handy if you're in a hurry (recipes with a classic custard take longer to cool before putting in your ice-cream maker). He also has a great introductory section which goes into detail about equipment, ingredients and techniques, including lots of custard advice.
Where the book really shines, however, is in his exploration of the more unusual types of ice cream. How about Oatmeal-Raisin, Goat Cheese, Lavender or Roquefort and Honey? Not exotic enough? Try Avocado, Green Pea or Parsley ice cream!  On my list to try this summer are Fresh Ginger, Lemon-Speculoos (ginger cookies), Raspberry (when my berries are ripe), and Gianduja gelato. And yes, Avocado…
---
Ready for Dessert, David Lebovitz
Yes, there are chocolate desserts, and layer cakes, as the cover illustration would suggest, but what has really impressed me about this book is the remarkably wide range of recipes David Lebovitz has included. The five main sections cover cakes, pies and tarts, custards, souffles and puddings, frozen desserts and cookies and candies. There's a section on basics, sauces and preserves as well. Each section is more of a collection of surprises than a tour of the usual baking suspects you might find in a greatest hits sort of book by another author (cheesecake, muffins, angel cake etc.).  There are unusual flavour combinations as well as intriguing takes on classic desserts.
So far I've made, and been delighted by, the Fresh Ginger Cake (with ¼ pound of fresh ginger, as well as black pepper!!) and Chocolate Pots de Crème and I'll be making the delicious-looking Racines Cake next as well as his Chocolate-Dipped Macaroons to use up some of the egg whites I have left over from making ice cream. And don't forget his famous Chocolate Chip Cookies, highlighed in our recent bake-off. But those are all fairly conventional. What I'm really intrigued by are the other recipes in the book. He explores some of the more exotic fruits (persimmon cake and kumquat sticky toffee puddings, for example), creative uses of alcohol (cider-poached apples, apple-red wine tart, grappa-soaked raisins…), and expands on his expertise with frozen desserts with a series of  new recipes concentrating on sorbets, though I'm going to add his caramel ice cream with sea salt to my summer ice cream making list. And if this seems a bit conventional, how does fresh mint sherbert with figs roasted in chartreuse and honey grab you?
Note: Cookbooker received a review copy of this title from the publisher.
---
Bittersweet, Alice Medrich
The last time I was in a specialty chocolate store (Chocolate Arts in Vancouver), I picked up a kilo of Cacao Barry's 66% single origin Mexican couverture chocolate, and set about looking for interesting things to do with it. I made some chocolate ice cream and pots de crème (all from David Lebovitz's books above) but what my heart was really set on was making truffles.
I did some research and Alice Medrich came up multiple times. She's more famous for her earlier book, Chocolat (1990), but what intrigued me about Bittersweet (2003) is that it is a response to the growing availability of high-quality chocolate in North America. When she wrote Chocolat, the supermarket baking square was the default cooking chocolate for almost everybody. But things have changed. Even in the modest, former coal-mining town where I live, the supermarkets carry a wider variety, including blocks of semi-sweet and bittersweet Callebaut. People in larger cities have even more choices. As she writes, "Any dessert maker today who uses only baking squares is missing a great culinary adventure. Ordinary chocolate makes good-enough desserts, but great chocolate makes fabulous desserts."
Accordingly, she adjusts existing recipes to take into account different types of chocolates, 'cracking the code' as she calls it for substituting one type for another. And she showcases new recipes to take advantage not just of the availability of better quality chocolate but of our growing taste for darker and more complex chocolate flavours.
I'm just getting started with this book, but already I'm swooning over the table of contents. Truffles, yes (and her famous 'wrong' truffles, with frozen ganache and untempered chocolate look amazing), but also explorations of chocolate and memory (ice cream and brownies of our youths), chocolate mousse, meringues and souffles, cakes, pies and cookies. And true to her introduction and intent, every recipe has a table of substitutions at the end depending on the strength of chocolate you choose to use in the recipe. For example, in classic truffles she'll increase the fat and sugar content as the percentage of cacao increases. In her cold truffles, she'll decrease the amount of chocolate in the ganache and add a little sugar.
---
Forgotten Skills of Cooking, Darina Allen
My sister recently bought this for me on a whim. She does know me well, as I'd been interested in the book ever since it was mentioned in the Guardian's Best Food Books of the Decade list at the end of 2009.
I love the subtitle of the book: "The Time-Honored Ways are the Best – Over 700 Recipes Show You Why." Darina Allen has been running the Ballymaloe Cookery School in Ireland for more than 25 years now, and noticed "an alarming loss of skills in many students." Particularly she noted how thrifty housekeeping has become unfashionable, and connected the loss of once-common kitchen skills to the rise of convenience foods. She started her Forgotten Skills courses not long ago, and this book was born from them. Courses include keeping chickens, making butter, yogurt and simple cheese and growing organic vegetables.
I also love that it starts with 'Foraging'. The ability to identify and cook with wild ingredients is definitely a near-forgotten skill. The only problem, of course, is that this is a book written in Ireland, and some of the wild plants in this section are not found in North America. Still, it's a great introduction to this important area of food and cooking.
I hope to come back to this book in a later article. 700 recipes is a lot, and I've only scratched the surface reading this. But I'm impressed by the encyclopedic nature of the book – it includes wild game, domestic creatures (a large chapter each on beef, pork and poultry) as well as lots of vegetable dishes, advice on making sausage, bacon and dried hams, keeping a few hens (and how to kill, pluck and prepare one!), making ginger beer… I could go on and on. This one will be the work of years to explore, but it fits perfectly with my growing desire to do as much as I can to wean myself and my family from commercial and processed foods, and to make as much as possible at home.
Coming soon: new books, including titles on preserves, canning, sausage making and more.