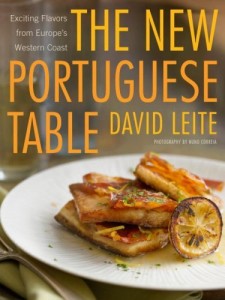 David is the author of The New Portuguese Table: Exciting Flavors from Europe's Western Coast, which won the 2010 IACP First Book/Julia Child Award and for which he received the 2009 National Leadership Award from the Portuguese-American Leadership Council of the United States (PALCUS). When not agonizing over his next book, he writes about everything from champagne to Welsh food to high tea to being a super taster for publications including the New York Times, Martha Stewart Living, Saveur, Bon Appétit, Gourmet, Food & Wine, Pastry Art & Design, Food Arts, Los Angeles Times, Chicago Sun-Times, The Washington Post, Charlotte Observer, epicurious.com, and Ridgefield Magazine, where he was the food editor for three years. He's also the resident food geek at The Morning News. David is a frequent guest on the Martha Stewart Living Radio program, Living Today, hosted by Mario Bosquez, and often reads his work on public radio's food program The Splendid Table hosted by Lynne Rossetto Kasper. He's a regular guest on WTNH-TV and was profiled on Radical Sabbatical on Fine Living Network.
---
Do you remember the first cookbook you owned?
Yes. It was the Betty Crocker's Cookbook for Boys and Girls and it had a boy – I believe he was frosting a chocolate cake – he had a chef's hat on and the girl was looking on with such admiration.
So that was an influence on you?
Absolutely. My mom used to work at a grocery store – Fernandes – she was a courtesy booth girl. She brought it home one day and I remember flipping through it and just loving it. When you're Portugese you always have two kitchens, because you never want to mess up the one upstairs since guests will be looking at it. We had ours downstairs and that's where my mom did a lot of her cooking, and that's where I learned to cook from my mother and grandmother.
Is there a cookbook later on in your life that made the biggest impression on you?
Some of the authors who I have loved and go back to again and again are Paula Wolfert and Lynne Rossetto Kasper. The book that I remember opening my eyes a lot was from when I was a freshman in college at Carnegie Mellon. I was studying acting and in my second year I had a job: I cooked for a professor and his family – and cooked out of an old, beat up copy of the New York Times Cookbook. This would have been in 1983 and I don't know what version that was – I think it was the Craig Clairborne One [Editor: probably the 1961 Edition. I would cook in the afternoon for them, I would set the table and I did that five days a week for a very long time. That was the one book they wanted me to cook out of and it had the greatest impact: it was one of those books like Mark Bittman's How to Cook Everything which had everything in it.
How about new cookbooks? Is there anything in the last year or two you've found particularly interesting?
I just saw the galleys for the new Essential New York Times Cookbook, edited by Amanda Hesser and it's going to be a doozy – it's huge. I think like many, many cookbook readers I am drawn to illustrated books. I like to be taken on a beautiful journey. A couple come to mind that I liked as pieces of art and work: Turquoise, which is a beautiful book with great illustrations and great recipes.
One that really blew me away, and I'm so thrilled that she won two James Beard awards for it was Fat, by Jennifer McLalan. She did Bones first, and is now working on a book about underused animal parts, Oddbits.  I thought that book was really revelatory because – let's not mince words – we all like the flavour of fat; fat can be good for you eaten in the right way and the right amount, so let's just enjoy it and rejoyce in it.
Grace Yung has a new book, Stir Frying to the Sky's Edge which I think is a very good book – authoritative on stir frying. I was impressed with the Lee brothers cookbook. A lot of people have dissed it but I enjoyed it. Every cookbook has flaws – my cookbook definitely has flaws – and I thought it was a well done book, a well researched book.
How do you see the future of cookbooks when so much is happening online now? You've got a web presence plus you published a cookbook not long ago – do you think the cookbook will become secondary; will it become an object?
It's funny – I'm going to be on four panels on the same topic soon. I believe firmly in my soul that the cookbook is going to be 'free gift with purchase'. What I mean by that is that we're never going to be able to police the recipes going on the Internet. Recipes can't be copyrighted – if you strip out the headnotes and change a few words, they can't be protected. We have to embrace the fact that this new technology has democratized it.
People are already going to libraries, taking my cookbook, making photocopies of recipes and distributing them to their cooking club, or making copies and sending them to their mother in California. This is no different, except it's on a much much larger scale – though that of course is the difference.
Do I feel that my book sales were hurt because more than a quarter of my recipes from the book are on the Internet? I don't think so. I think people want to get those recipes in context. It becomes very circular: the book helps drive traffic to the website and recipes which then drive book sales.
What I think authors have to do is think of themselves differently. They've got to say, what can I do so that I become the center? I do a lecture, I do cooking classes, I do a tour. The book is something that feeds whatever else the author is doing and that then feeds the book. I think the iPad and digital readers like that, when they get their druthers, are going to have a very positive impact. I have an iPad and I wrote a piece about it recently. I wanted to go on the record early because I feel that how-to books – books that require instruction, audio, video is where the iPad is going to help sell so many copies because publishers realize that the added value of enriched media is going to bring eyes to books in a different way.
I said in another piece Computers or Cookbooks in the Kitchen that I believe in computers in the kitchen. I don't take cookbooks into the kitchen. I go online or I scan recipes into PDFs and put them on my computer. With the iPad I can bring all my favorite recipes anywhere I go.
There's too many opportunities to get recipes free online and writers have to embrace that. Writers who are on the Internet have absolute contact with their audience and they're able to, on the fly, understand what's going on. The Internet is a great, great focus group for a writer if they use it smartly. They can understand what their readers want, the kind of recipes they want.