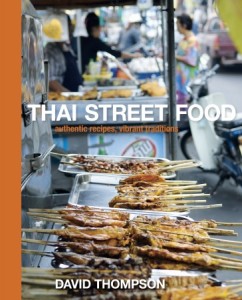 A beautiful, engrossing door-stopper of a book, Thai Street Food is a travelogue, a history lesson, a cookbook and a glimpse of a day in the life of the vibrant street food of Thailand.
Anyone who's travelled to Thailand will have been beguiled by the street markets and the legions of vendors selling everything from noodles to curry, soups to desserts, for eating on the go or sitting for a quick meal. This food traces its roots to the 1960s when more and more Thais came to cities from the countryside for work and, like their predecessors in the industrializing west, had less time (or space, since many were housed in communal dormitories) for the cooking of the countryside and the farm kitchen.
Initially strongly influenced by Chinese cuisine, the first generation of street food was strongly noodle-focused, but as time has gone on and street food has become more integrated into daily life, more and more traditional Thai dishes have come to the streets and night markets. Not unlike in the West, changes to work and living traditions have made prepared foods a simple solution to the realities of busy working life. However, the presence of a strong indigenous food culture (two, really, because of the Chinese influence), means that unlike in the West, Thai fast food has a wonderful diversity and an important social component; much of the life of a community can still be found in the streets and around the food stalls.
David Thompson, who's made Thai food his life's work (he made a name for himself first in Sydney at his Darley Street Thai, and then cemented his fame with Nahm in London, the first Thai Restaurant to be awarded a Michelin star) has been here before. His previous cookbook, Thai Food, is widely considered one of the best of its type, offering a comprehensive survey of the history and scope of Thai cuisine, though definitely not for beginners or those looking for quick meal ideas (the first recipes don't appear for almost 200 pages!).
Thai Street Food is a slimmer book, at 370 pages about half the size of Thai Food, though it's a larger format title, heavy with glossy photos. It has a sampling of some of Thompson's favourite recipes (100 or so) along with an equal number of delightful full-page photographs of street life and street cuisine (not to mention some lovely food photography).
Organized as a day in the life, the book opens with morning, exploring breakfast, morning snacks and the class of dishes known as Kanom jin noodles. Then noon showcases lunch, curry dishes, snacks and sweets and noodles and noodle shops. Finally, night ends the book with desserts, Chinese dishes, and a section called 'made to order', which describes the food from dtam sang stalls – places where simple food is cooked, mostly in a wok, to order.
There's also a comprehensive section on ingredients and basic food preparation, including how to make your own coconut cream and coconut milk. Thompson strongly encourages readers to seek out the right ingredients instead of making substitutions, weighing authenticity higher than ease of preparation.
It's a book I imagine a lot of people will buy and read with great enjoyment for the writing and photographs alone, though only home cooks dedicated to exploring Thai cuisine further will end up cooking much from it. Like his first book, Thai Street Food is not for beginners – the lists of ingredients and techniques will be a little daunting to someone who hasn't cooked much Thai food in the past. Not that there aren't simple, delicious sounding dishes here, but you do have to have access to a good Asian supermarket or specialty food store if you want to do this book justice. To be fair, Thompson also notes that many ingredients which were once elusive can now be ordered online, though doesn't provide sources.
In many ways, this book reminds me of Jeffrey Alford and Naomi Duguid's Hot Sour Salty Sweet, a gorgeous travelogue of a book that will look fantastic on your coffee table, and if opened with a seriousness of intent and purpose, could lead to a delicious culinary journey.
Read an interview with David Thompson at Australian Gourmet Traveller.
Cookbooker Links
Thai Food
Thai Street Food
Sample Recipe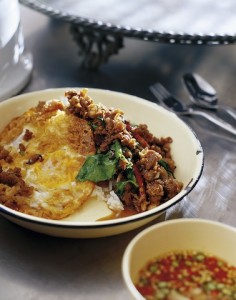 Stir-fried minced beef with chillies and holy basil
Serves 2
4 garlic cloves, peeled
4–10 bird's eye chillies (scuds)
good pinch of salt
3–4 tablespoons vegetable oil
2 eggs
200 g (6 oz) coarsely minced (ground) beef
about 2 tablespoons fish sauce
large pinch of white sugar
¼ cup stock or water
2 large handfuls of holy basil leaves
chillies in fish sauce (see right), to serve
Coarsely chop the garlic with the chillies and salt.
Heat a well-seasoned wok over a high heat then turn down the heat and add 2 tablespoons of the oil. Crack in one of the eggs and fry gently, shuffling the egg to prevent it from sticking, until it has cooked to your preference  –  I like mine with a runny yolk but with crispy, frazzled edges. Spoon some of the hot oil over the egg to ensure the yolk cooks evenly. Carefully lift out the egg with a spatula and place it on a warmed plate, then fry the other egg. Keep the eggs warm while you cook the beef.
Add more oil  –  you'll need about 4 tablespoons of oil in all in the wok. When the oil is hot, fry the garlic and chillies for a moment, but don't let it colour. Add the beef and continue to stir-fry for a minute until just cooked. Season to taste with the fish sauce and sugar but be careful not to make it too salty.
Add the stock or water and simmer for a moment. Don't let it boil or stew for too long, otherwise the meat will toughen and too much liquid will evaporate – there should be enough to form a sauce. Stir in the holy basil and as soon as it is wilted, remove from the heat. It should taste rich, hot, salty and spicy from the basil.
Serve on two plates with plenty of steamed jasmine rice, a fried egg on top and a bowl of chillies in fish sauce on the side.
chillies in fish sauce
¼ cup fish sauce
10–15 bird's eye chillies (scuds), finely sliced
2 garlic cloves, finely sliced – optional but desirable
1 tablespoon lime juice – optional
good pinch of chopped coriander
Combine the fish sauce, chillies and garlic in a bowl and set aside. It keeps for some time – in fact it becomes richer and milder as it settles for a day. Make sure it is covered if you are making it in advance – and if the fish sauce evaporates, add an equivalent amount of water to refresh it. Just before serving, stir through the lime juice and coriander.