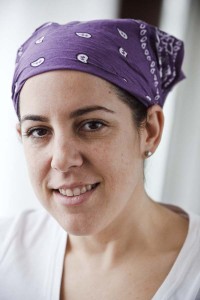 Fany Gerson was born and raised in Mexico City and wanted to be a chef since she was a little girl (even though she didn't know it was an actual possibility).
She attended cooking school in Mexico and then graduated from the Culinary Institute of America. She has worked in kitchens worldwide, including Michelin-three-star Akelare in Spain, Eleven Madison Park, and Rosa Mexicano in New York, where she developed their acclaimed modern Mexican desserts. Her first cookbook, My Sweet Mexico: Recipes for Authentic Pastries, Breads, Candies, Beverages, and Frozen Treats, was published by Ten Speed Press in September, to be followed by Paletas: Authentic Recipes for Mexican Ice Pops, Aguas Frescas & Shaved Ice in July 2011.
Her work has been featured in The New York Times, Gourmet, Fine Cooking, Time Out, New York Magazine, and Edible Manhattan. She started her own company "La Newyorkina" in New York on the summer of 2010, selling paletas and aguas frescas at the Hester street fair and New Amsterdam Market respectively. Fany is planning to open a Mexican Ice cream shop in New York City, late spring 2011.
---
1. What was the first cookbook you owned?
I'm pretty sure the first cookbook I ever had that I could call my own and not just one that I claimed to be mine (but really stole from my mom) was the Better Homes New Junior Cookbook. I was just learning English and loved to cook, so my dad's cousin gave it to me as a present.
2. What cookbook would you say had the greatest impression on you?
My dad's partner gave me a collection of handwritten cookbooks when I graduated Culinary school and they are my most treasured ones. There are some that are also household manuals and the books are all written with beautiful handwriting, incredible recipes and each one is very personal. I feel these are so special not only because they are truly one of a kind but because it's as if I'm holding a piece of history every time I pick one up.
3. For a home cook who was interested in exploring authentic Mexican cuisine in more depth, what cookbooks would you suggest as particularly interesting or inspiring?
I think that some of the best ones in the sense that they are authentic, well researched and inspire include Rick Bayless's Mexican Kitchen: Capturing the Vibrant flavors of a World-Class Cuisine, Diana Kennedy's The Essential Cuisines of Mexico, Marilyn Tausends' Mexico: The Beautiful Cookbook, and Susana Trillings' Seasons of My Heart: A Culinary Journey Through Oaxaca, Mexico.
There is a wonderful book by Ricardo Munoz Zurita which is the Larousse Gastronomique of Mexican food. I heard it will be translated next year and that is a must, in my opinion. Roberto Santibanez, a dear friend and colleague, is publishing a book sometime in the spring and it's the one I am so excited about because he takes a different approach to Mexican cuisine (I don't want to give anything away but I know it's going to be awesome!)
There are countless cookbooks in Spanish but if you speak Spanish and want to know more about all the wonderful cookbooks, you should definitely get a copy of "Los Libros de Cocina Mexicana" by Cristina Barros. It's a book about the most important cookbooks (how neat is that!).
4. In your book My Sweet Mexico, you write about the extensive research you undertook, visiting artisans, museums, markets, trying to find sources for some of the remarkable variety of recipes in the book. Do you see the cookbook as an act of cultural preservation as much as an instruction manual?
I see it more as a cultural preservation than anything else. I am hoping that documenting part of the culture and recipes will help give continuity.
5. If you could recommend one recipe from the book which would serve as an introduction to the pleasures of Mexican Dulces, what would it be?
I think that you're referring to the confection kind of sweets and that's a very hard question but I would say that maybe the Glorias or Pelliscos de Tamarindo Acapulqueno. If you have time and patience though, I would do the Jamoncillo de Pepitas or the coconut stuffed limes.
6. In the introduction, you mention that you found hundreds of types of regional sweets and pastries in your research, and could only fit some of them into the book. Is there a follow-up book on your mind?
I am currently finishing my second book. It's a much smaller book and it's about paletas, aguas frescas and raspados but I would love to have a follow up to My Sweet Mexico. In my dreams though, I would love to have an extension of each chapter and write an encyclopedia of the sweets of Mexico.