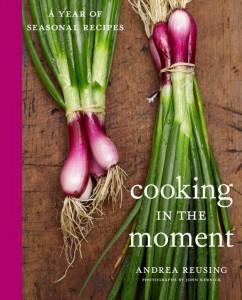 Publisher's Weekly has a great online tool which allows publishers to submit their upcoming books each season. I've had a wander through the 311 cookbook listings for Spring, 2011 (in the US) and I'm presenting a totally subjective look at some of the titles which caught my eye.
How did I choose these titles? I'm interested in books that stand out – whether it's the author or the subject, I'm looking for something a little different, something which will teach me, entertain me, open my eyes and palate to something new. And if not new, then I'll also be satisfied with some classics from someone I trust.  I will also happily take anything published by Ten Speed Press on faith, as they have published so many simply superb cookbooks over the years.
I am not interested in the following: any cookbook with a number in the title (100 ways to cook/grill X); any cookbook with low fat or low anything in the title; cookbooks with celebrities on the covers; cookbooks for newlyweds (there are several this year: do they  assume that once you get married you suddenly think – "okay, now that's out of the way, I'm going to learn how to cook"?). I'm also wary of publishers who publish too many cookbooks a season; I can't help but think there's some serious recycling of content going on if you are pumping out twenty cookbooks, four times a year.
What does Spring 2011 look like?
Well, there are some clear trends. Local eating and cooking is one, keeping chickens (and doing things with their eggs) another. Verging on overkill are several continuing dessert trends for which I saw a lot of similar titles: Macarons, Cupcakes, Whoopie Pies.
My vote for Trendy title of the year (who knows, it may be a great book): Artisanal, Gluten Free Cupcakes. Really? Artisinal cupcakes?

Publishers: we will be reviewing a modest number of cookbooks this year, so send us a note, especially if any of your titles are on this list. We provide our mailing address on request.
---
Ancient Grains for Modern Meals: Mediterranean Whole Grain Recipes for Barley, Farro, Kamut, Polenta, Wheat Berries & More
Maria Speck
Ten Speed Press. April 26, 2011
$29.99/$34.00 Can.
I've only recently discovered farro (ironically, it wasn't available where I live until Costco started stocking it), and I'm curious about all the other interesting grains I've been missing out on. This looks like a great place to start the exploration.
---
Artisan Cheese Making at Home : Techniques & Recipes for Mastering World-Class Cheeses
Mary Karlin
Ten Speed Press. July 26, 2011
$29.99/$34.00 Can.
256 pages
There are a few cheese making classics out there already, particularly Ricki Carrol's Home Cheese Making. It's something I'm planning on trying my hand at, and I've already had a look at Carrol's book. This one caught my eye because of its focus on the artisan side of cheese making. Small-scale artisinal cheese production has exploded in recent years in North America, and the possibility of tackling some of the more interesting and unusual cheeses at home is very intriguing.
---
At Elizabeth David's Table : Classic Recipes and Timeless Kitchen Wisdom
Elizabeth David, Rick Rodgers, Ruth Reichl
Ecco. March 2011, Ship Date: February 9, 2011
$37.50
384 pages
So many other cookbook authors refer to Elizabeth David with a respect bordering on awe that this can't help but be a fabulous title.  And Ruth Reichl is involved. Published to commemorate the 60th anniversary of Elizabeth David's first book, the iconic Mediterranean Food, the book collects recipes from all of her books as well as advice and short essays, and tops it off with some high-quality photography.
---
Chicken and Egg : A Memoir of Suburban Homesteading with 125 Recipes
Janice Cole
Chronicle Books, February 9, 2011
$24.95
256 pages
Yes, it's trendy. I know. And yes, I'm also getting chickens this year and am going to be one of those irritating people who will go on and on about local eating and urban homesteading. However, you might get a little box of eggs or some homemade macaroons if you're nice and pretend not to be bored. And with 125 recipes, I'm sure to find something to do with all those extra eggs.
Though now I re-read the description the very handy British word 'twee' is bubbling to the top of my mind: "From picking out the perfect coop to producing the miracle of the first egg, Cole shares her now-expert insights into the trials, triumphs, and bonds that result when human and hen live in close quarters." Hmmm…
---
Cooking with the Masterchef : Food for Your Family & Friends
Michel Roux Jr
Weidenfeld & Nicolson. March 2011
$34.95
224 pages
My no-celebrities rule doesn't apply to celebrity chefs, so Michel Roux Jr's position on BBC's MasterChef doesn't count. Roux comes from a famous foodie family (Michelin-starred father, also a cookbook author), and in this title, a change from the haute cuisine of his Le Gavroche cookbook, he focuses on home cooking, including recipes for brioche, Salade Lyonnaise, Mushroom Souffle, Brasied Trout in Riesling, and Chicken and Cashew Nut Curry.
---
Delicious Memories: Recipes and Stories from the Chef Boyardee Family
Anna Boiardi
Stewart Tabori & Chang. May 2011
$27.50
208 pages
Okay, this one is a bit of a wild card. I put it in because I have slightly shameful memories of canned pasta on toast when I was a teenager, courtesy of the Chef Boyardee Family (filed next to the terrible things I did with peanut butter and process cheese slices) and I'm just curious to see what this could possibly be like. (Perhaps it will be brilliant!) Though the fact that the author sells desserts on QVC, the shopping channel, is a little bit worrisome. (Perhaps they are delicious!) The pasta recipes at least sound reasonable: Ravioli with Ricotta and Squash Filling, Cotechino with Lentils, and Baked Fennel with Butter and Parmesan.
---
Cooking in the Moment : A Year of Seasonal Recipes
Andrea Reusing
Clarkson Potter, April 5, 2011
$35.00/$40.00 Can.
272 pages
What I like about this title is that it takes seasonal, local eating, something I (and lots of other people) have been exploring more recently, and connects it to the reality of home cooking, work and other distractions. It's fine to wax poetic about the beauty of eating more sustainably, but most people also have busy lives and need a little help putting their ideals into regular practice.
From the blurb "When seasonality is reimagined as a grocery list rather than a limitation, everyday meals become cause for celebration—a whole week of fresh sweet corn; a blue moon autumn asparagus harvest; a rich, spicy soup made with the last few sweet potatoes of winter."
---
Eat Greens : Seasonal Recipes to Enjoy in Abundance
Barbara Scott-Goodman, Liz Trovato
Ten Speed Press. May 3, 2011
$24.95/$29.00 Can.
240 pages
As part of our project to eat more seasonably and locally (and, as Michael Pollan suggests, eat mostly plants), my wife and I have been eating more winter greens these past few months, and having some very nice adventures with cabbage, kale and chard. This looks like a great title for us – greens shouldn't just be a summer salad, but should be on the table all through the year.
---
The Feast Nearby : How I lost my job, buried a marriage, and found my way by keeping chickens, foraging, preserving, bartering, and eating locally (all on $40 a week)
Robin Mather
Ten Speed Press. May 24, 2011
$24.00/$27.00 Can.
272 pages
Now this one sounds un-twee. The author writes about eating well and locally, on $40 dollars per week, inspired by losing her job, moving to rural Michigan, and vowing to eat three home-cooked, seasonal and local meals per day. Reminiscent of Barbara Kingsolver's excellent Animal, Vegetable, Miracle, another chronicle of a year of living closer to the land, the book promises a mixture of memoir, food politics and fine eating. Definitely worth a look.
---
Goat: Meat, Milk, Cheese
Bruce Weinstein, Mark Scarbrough, Marcus Nilsson
Stewart Tabori & Chang. April 2011
$29.95
256 pages
There's a farmer at our local farmer's market who sells goat, and this summer we decided to try something different and made a very nice goat curry. Although my wife finds goat milk a little, well, goaty, I like it, and we both love goat cheese. So I'm very interested in finding out more about cooking with one of the most popular domestic animals in the world, one which has really been left out of much of North American cooking.
---
Grilled Cheese, Please!: 50 Scrumptiously Cheesy Recipes
Laura Werlin
Andrews McMeel. March 8, 2011
$16.99
184 pages
Okay, while not exactly haute cuisine, there is something very comforting about a grilled cheese sandwich. Can one make a good cookbook about them? We'll see. I'm especially curious about how someone can manage to compile 50 grilled cheese recipes that are distinguishable from each other. Oh, and I broke my rule about numbers in the title.
---
Hunt, Gather, Cook: Finding the Forgotten Feast
Hank Shaw
Rodale Books. May 24, 2011
$25.99/$29.99 Can.
224 pages
I know of Hank through his website "Hunter Angler Gardner Cook" and his writing on the Simply Recipes website. I'm also a fan of foraging, and very curious about wild game. Hank manages to marry together the traditions of living off the land and living well: think shooting a duck, and then making Wild Duck Consomme. The book highlights homemade root beer, cured wild boar loin, boneless tempura shad, Sardinian hare stew—even pasta made with handmade acorn flour.
---
Jellymongers: 150 Exquisite and Delicious Gelatin Dessert Ideas
Harry Parr, Sam Bompas
Sterling Epicure. May 3, 2011
$19.95
160 pages
Great title. Perhaps jelly is the new macaron? Maybe if you buy this and master it you'll be years ahead of everyone and can open your own chain of artisan jelly stores across the nation. Maybe. In the meantime, great title, and seriously, there is a long and intriguing history of using gelatin in cooking and I'm curious to see what they have to say about the Victorians, who loved the stuff, as well as the fabulous fifties. Yes, I broke my rule again about titles with numbers in them. There seem to be exceptions.
---
Maida Heatter's Cakes (Original)
Maida Heatter
Andrews McMeel. March 29, 2011
$19.99
352 pages
Not much to say about this one – it's Maida Heatter, who is legendary in the dessert world, and it's about cakes, which I happen to enjoy making and eating very much.
---
Paletas: Authentic Recipes for Mexican Ice Pops, Aguas Frescas & Shaved Ice
Fany Gerson
Ten Speed Press. June 7, 2011
$16.99/$18.99 Can.
128 pages
After last year's intriguing Mexican dessert book My Sweet Mexico, Fany Gerson follows it up, just in time for summer with a June publication, of this equally intriguing book full of fancy popsicles and other exotic frozen fare. Think Coconut and Mango-Chile paletas, Horchata-Strawberry and Dulce de Leche. It's about time someone wrote this book!
---
Plenty: Vibrant Recipes from London's Ottolenghi
Yotam Ottolenghi, Jonathan Lovekin
Chronicle Books. March 23, 2011
$35
288 pages
This got rave reviews from many of the writers, cooks and bookstore owners in our 2010 books of the year roundups, and now it's being released in North America I'm very interested to see what all the fuss was about.
---
Purple Citrus and Sweet Perfume: Cuisine of the Eastern Mediterranean
Silvena Rowe
Ecco. June 2011
$34.99/$36.99 Can.
256 pages
This looks fascinating – one of those books that promised to expand your tastes, your spice cupboard and your imagination. Exploring Ottoman cuisine, the list of recipes from the book's blurb is already making me hungry: "red lentil fritters with eggplant, Aleppo chili, and pomegranate jam to sumptuous entrees such as spiced pilaf with duck confit, raisins, and pine nuts to heavenly desserts like maple-glazed roasted figs with pistachio praline." It looks like a beauty too, at least from the cover illustration.
---
River Cottage Every Day
Hugh Fearnley-Whittingstall
Ten Speed Press. March 29, 2011
$32.50
416 pages
I'm a sucker for River Cottage books, and Hugh Fearnley-Whittingstall's down-to-earth style. This one sounds like a sure-fire combination of recipes and advice for home cooking and busy families, with his concern for sustainable food and flavour tempered by an acknowledgment that sometimes you just have to go out and buy a jar of mayonnaise instead of making everything yourself.
---
Saveur New American Comfort Food
James Oseland
Chronicle Books. April 20, 2011
$35
256 pages
It's not like comfort food is a new topic; it's been pretty well mined the last few years as various 'artisinal diners' popped up and people rediscovered the joys of meatloaf. That said, this title does promise an international / regional take on American comfort food, including udon noodles and huevos rancheros, for instance, which is promising.
---
Scoop: 150 Specialty Ice Creams from the Nation's Best Creameries
Ellen Brown
Running Press. May 3, 2011
$19.95/$23.00 Can.
240 pages
David Lebovitz set the bar very high with A Perfect Scoop, and I'm not looking for something to supplant it, not while I still have to tackle his avocado, green pea, and other intriguing flavours of ice cream. What interests me about this title, however, is that the recipes are gathered from specialty ice cream stores across the US, pooling the talents of a host of people. And 150! That's a lot of ice cream. My no titles with numbers in them rule is crumbling away, by the way.
---
Slow Cooker Revolution: One Test Kitchen. 30 Slow Cookers. 200 Amazing Recipes.
By the editors at America's Test Kitchen
America's Test Kitchen Books. February 15, 2011
$26.95
336 pages
Yes, slow cookers are trendy – there has been a rash of 'high end' slow cooker books the last few years, with Not Your Mother's Slow Cooker leading the re-examination of what sorts of great food could be produced in this humble appliance. What got this one on my list is the America's Test Kitchen imprint; I'm a bit of a sucker for their obsessive recipe testing. And yes, this has numbers in the title too. I think we'll just pretend I didn't say anything at all about books with numbers in their titles…
---
Super Natural Every Day: Well-loved Recipes from My Natural Foods Kitchen
Heidi Swanson
Ten Speed Press. April 5, 2011
$23.00/$25.95 Can.
256 pages
101 Cookbooks is a hugely popular food blog, and Heidi Swanson has been doing great things with vegetarian, vegan and whole foods for years now. Her first book, Super Natural Cooking, was nominated for a James Beard award, and this follow-up focuses on some of her favourite 'go-to' recipes, ones which are quick, simple and delicious. What I like about Heidi's cooking is the sheer range of it – she introduced me to farro, and I'm sure there are more discoveries lurking here.
From the blurb: "Black Sesame Otsu, Pomegranate-Glazed Eggplant with Tempeh, or the aptly named Weeknight Curry. Heidi's Rose Geranium Prosecco is the perfect start to a celebratory meal, and the Buttermilk Cake with fresh plums or Sweet Panzanella will satisfy even the most stubborn sweet tooth."
---
Vij's at Home: Relax, Honey: The Warmth and Ease of Indian Cooking
Vikram Vij, Meeru Dhalwala
Douglas & McIntyre. April 2011
$35.00
232 pages
I have this book (it's Canadian after all), have had some great meals at the restaurant, and have already made a few very good recipes from it. It's nice to see it coming out in the US and I hope Vij and Meeru's take on Indian comfort food is a hit.