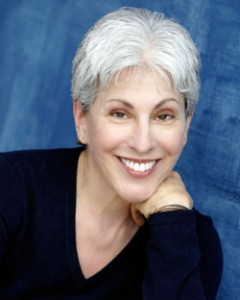 Mollie Katzen, with over 6 million books in print, is listed by the New York Times as one of the best-selling cookbook authors of all time. A 2007 inductee into the prestigious James Beard Cookbook Hall of Fame, and largely credited with moving healthful vegetarian food from the "fringe" to the center of the American dinner plate, Ms. Katzen has been named by Health Magazine as one of "The Five Women Who Changed the Way We Eat."
In addition she is a charter member of the Harvard School of Public Health Nutrition Roundtable and an inaugural honoree of the Natural Health Hall of Fame. An award-winning illustrator and designer as well as best-selling cookbook author and popular public speaker, Mollie Katzen is best known as the creator of the groundbreaking classics Moosewood Cookbook, and The Enchanted Broccoli Forest. Her other books include the award-winning children's cookbook trilogy, Pretend Soup, Honest Pretzels, and Salad People; Vegetable Heaven (winner of the International Cookbook Reveu Best in Category award); Sunlight Café; Eat, Drink, & Weigh Less (with Walter Willett, MD of Harvard), and the best-selling The Vegetable Dishes I Can't Live Without.
Her most recent book is Get Cooking: 150 Simple Recipes to Get You Started in the Kitchen. She can be found online at www.molliekatzen.com.
---
1. Do you remember the first cookbook you owned?
Betty Crocker's Cookbook for Boys and Girls.  I adored it! Made practically every dish. I was about 8. [Editor's note: this is the same cookbook David Leite mentioned in his interview]
What cookbook would you say had the greatest impression on you?
Probably that one.
Could you talk a little about any recent cookbooks you've found particularly interesting or inspiring?
I must admit, I almost never look at cookbooks. I just cook from the food itself, without recipes (unless I'm writing one). I don't watch cooking on TV either. Have never seen a single Food Network show in its entirety. But I digress. Let's see – recent books…. Oh – just realized there's one I'm flat-out in love with. Make it two, because it's in two volumes: Nigel Slater's "Tender." Passionate, brilliant, inspiring, contagious. He's the real deal. A gardener and an alchemist, as well as a great food poet and enthusiast.

4. Our members are currently cooking from Moosewood as part of our Cookbooker Challenge. Is there a recipe from the book you'd recommend – a personal favorite?
I'd say the most consistently popular recipe over these past 30+ years (and one that I haven't changed, or at least not much) is the Cauliflower Cheese Pie with Grated Potato Crust [recipe link]. It's a neat (literally) little number that really works, and is very encouraging for beginners. This might sound obvious, but it's highly desirable that a recipe work. And I state the obvious, because, sadly, truly it's not always the case that something comes out right. And beginners need for things to go well, so they won't turn away in discouragement, and head out the door to the nearest deli or fast food. My own personal favorite Moosewood recipe? Probably the Brazilian Black Bean Soup [recipe link]. But ask me again in a few weeks.
5. It seems like as a culture we've become more sophisticated about food since the 1970s, and more ignorant at the same time; it's either high-end cuisine or fast food and a decline in home cooking. Was your most recent book, Get Cooking, an attempt to respond to this?
Very much so. I wrote it at the urging of my son, who was in his first post-college apartment at the time, and wanted to learn (and have his friends learn) some basic skills, like how to make a salad dressing or roast a chicken. I feel so strongly that home cooking is an essential and endangered part of our culture – and our birthright as human beings. I've witnessed first-hand (many times!) people (of all ages, including preschoolers, whom I also write for) going from knowing absolutely nothing to acquiring real skills and comfort around cooking, and its downright transformative. All good.
6. Get Cooking launched with its own website, full of video lessons on cooking and kitchen skills. You're also very active on Twitter now. Where are you going next?
Twitter helps me stay centered, work-wise, and reminds me that there is still a need and an interest in my message in particular and in learning to embrace good food and community in general. It's also a great avenue for supporting and promoting others, which I love to do. We need all the sense of community we can get – and I also love my "tweeps" there! Opportunities to feel connected are important to a writer, as so much of what we do is done solo, and it's easy to feel isolated.
I am working on a big book that reflects how my cooking has evolved since I wrote the first edition of Moosewood (which began as an outgrowth from my personal journals when I was not even "of age" yet) and showing where my cooking has ended up. It is very much a "how I cook now" tome, with a couple hundred new recipes – and I'm having a great time putting it together. It will be out in a few years…