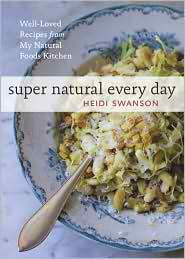 We all have our favorite recipes, ones we whip up regularly: our defaults, go-tos. There has been a trend of late where cookbook authors are publishing collections of their own everyday recipes, and it's a trend I approve of. Everyday recipes are usually time-tested, fairly quick and straightforward, comforting. From a writer you trust, an everyday cookbook can be a treasure trove of recipes you'll actually cook from regularly.
With Super Natural Every Day, a companion volume to her first cookbook, Super Natural Cooking, Heidi Swanson has produced an excellent example of the form. As she writes in the introduction, "I resisted the urge to include over-the-top, special-occasion productions… I kept a simple notebook over the past couple years of my favorite everyday preparations – ones I revisit often."
It's a lovely cookbook. From the dust jacket (on a paperback, which I've not seen before) to the beautiful photos, all taken by Heidi and her partner, Wayne, this is a well designed and laid-out book that's a pleasure to look through and easy to cook from. I particularly like the organization – it's laid out, as befits the title, as a day of food: breakfast, lunch, snacks, dinner, drinks, treats, accompaniments. Each section's table of contents also summarizes the main ingredients of the recipe, so you can scan them quickly – for example, Farro Soup: curry powder, lentils, salted lemon yogurt.
And (hurrah!) she lists all her ingredients in cups, ounces and grams, for those of us who really would prefer our cookbooks to be a little more precise, as well as for the rest of the world, who uses more sensible forms of measurement…
Heidi's vision of natural foods and cooking focuses on whole grains and flours, minimally processed sweeteners and an emphasis on the local whenever possible. In her larder are a mixture of the commonplace and the exotic, and the book is a great introduction to those looking to experiment a little.
Butter is quite common (it is definitely a natural food, after all), as is virgin coconut oil, which I've just started using. She uses multiple types of flour, including quinoa flour, oat flour, spelt flour and whole wheat pastry flour. Have no fear, though – she also provides substitutes for those flour-challenged folk who can only get white and whole wheat. She treats soy products like tofu, tempeh and seitan as ingredients in their own right, not as substitutes for meat in a recipe.
The recipes

There are two types of recipe here – what you might call solid vegetarian/natural food standards like vegetable curry, oatmeal, lentil soup, granola, bran muffins. These are all tweaked with the substitution wherever possible of whole grains, yogurt, natural sweeteners and citrus zests for extra flavour. Then there are the more exotic creations like Pomegranate-Glazed Eggplant with Tempeh or the seriously zingy Black Pepper Tempeh (with 15 cloves of garlic!).
Everything I've cooked so far has turned out well. The lentil soup with farro was hearty and just right for a cool, wet spring dinner (it also made for great leftovers). Her cauliflower soup was delicious – she raises it up a notch with the addition of dijon mustard and aged cheddar, as well as home-made whole-wheat croutons toasted in mustard and olive oil. My daughters are hooked on her oat cakes with maple syrup and coconut oil, and I've found myself starting to 'Heidify' some of my own standards – for example, I made blueberry muffins yesterday but substituted butter and coconut oil for the canola called for in the recipe, yogurt for the buttermilk, whole unrefined sugar for the brown sugar and replaced half the white flour with spelt flour. The result was delicious, and much more healthy than the original.
This is definitely not your mother's vegetarian cookbook. It feels hip, up-to-date, very accessible (most of her dinner recipes can be made in a single pot or pan) but yet still has the potential to expand your boundaries a little, get you trying some new ingredients. I like it very much and have flagged several more interesting recipes for future lunches and dinners as well as buying some new things at the store (tempeh, spelt flour, unrefined sugar).
I have the cookbook open on the kitchen counter as I finish this review. I'm off to make some more granola now, and think about dinner. I suggest you do the same.
More about the book
Recipe Reviews on Cookbooker: see what our members think!
Sample Recipes: you can get a six recipe sampler PDF from 101 Cookbooks.
Buy the book
Amazon Canada: Super Natural Every Day: Well-loved Recipes from My Natural Foods Kitchen
Amazon US: Super Natural Every Day: Well-loved Recipes from My Natural Foods Kitchen