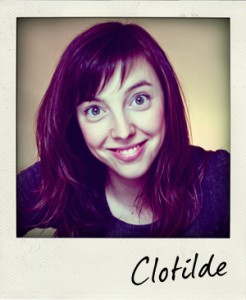 Clotilde Dusoulier is the Parisian proprietor of the renowned food blog Chocolate & Zucchini. Since 2003 she has shared her passion for all things food-related, with recipe ideas and cooking inspiration, as well as musings on quirky ingredients, cookbook acquisitions, nifty tools, and restaurant experiences.
Her articles and recipes have appeared in numerous publications including Bon Appétit, Martha Stewart Living, New York Times Magazine, Saveur, Elle (France) and Delicious (UK).
Clotilde is also the author of two books, Chocolate & Zucchini, and Clotilde's Edible Adventure in Paris. She has also served as the consulting editor for two classic French cookbooks published by Phaidon, I Know How To Cook, and the upcoming The Art of French Baking, both by Ginette Mathiot.

---
1. Do you remember the first cookbook you owned?
I believe the first cookbook I owned was a French cookbook by Andrée Zana-Murat called "Ils arrivent dans une heure!" meaning "They'll be here in an hour!" It is full of quick and easy recipe ideas you can pull together in a short time before your friends arrive, even if you're not a very experienced cook, with lots of advice on the kinds of things to keep in the pantry for such situations.
2. What cookbook would you say has made the biggest impression on you? English and/or French?
It's hard to name just one because I feel I've drawn inspiration from every single cookbook I've ever owned, but I really enjoy Nigel Slater's The Kitchen Diaries. It documents a year of his cooking, from the simplest no-recipe plates he assembles to (slightly) more elaborate dishes, and the sense of intimacy and coziness that emanates from the book is wonderful. It's probably no surprise I like it so much when you stop to consider that the format of the book is, in fact, very similar to that of a food blog.
3. Could you talk a little about any recent cookbooks you've found particularly interesting or inspiring?
I've just received a copy of San Francisco's Bi-Rite Market's book, which is first and foremost "a grocer's guide to shopping." I really enjoy it because I feel that before you learn how to cook, you should learn how to shop for good, seasonal ingredients. Once you have these in your kitchen, you've won half the battle.
4. Your next book is "The Art of French Baking", by Ginette Mathiot, published by Phaidon. Could you tell us a little about this title?
The translation was done by a professional translator, and I worked on the project as a consulting editor. It is the first English translation of a French best-selling baking book from the 1930′s called "Je sais faire la pâtisserie" by Ginette Mathiot. It's a very comprehensive book that covers the whole range of French pâtisserie, from cakes and tarts to custards, cookies, and fruit desserts. It's the baking sequel to Mathiot's (also best-selling) cooking bible "Je sais cuisiner," which was published two years ago by Phaidon as I Know How To Cook.
Our goal with The Art of French Baking, as with I Know How To Cook, was to select and adapt the recipes for a contemporary audience who hasn't necessarily grown up eating all of those pastries and dishes, adding more detail where we felt it was needed, while still keeping the author's voice and approach intact. Both of these books have accompanied generations of French cooks in the kitchen, so they're national heirlooms, to be treated with affection and respect.
5. Any plans for another 'Clotilde' cookbook? I've been making your natural starter bread and your natural starter baguettes regularly, and I have found your directions to be excellent – I'd totally buy a natural starter baking book!
Thanks for asking! I am busy working on a new cookbook that's all about cooking vegetables the French way. The manuscript is due in February, and it will be published by Clarkson Potter in the spring of 2013.
I appreciate your kind words about my bread posts. Bread baking is a huge interest of mine, but I feel it's a very wide field of exploration and that I need more experience before writing an actual book on the subject. It's definitely something I have in mind for the future, though!