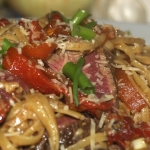 Chili Balsamic Marinated Sirloin with Fettuccine and Sun-Dried Tomatoes
Page 92

View photos
(2)
Tags:
Recipe Reviews
I made this for dinner tonight, cutting the recipe in about 1/2 since its just my husband and I. He really liked it as did I- it will definitely see our table again.

I did make a few changes:

I didn't slice the sirloin first, mostly because I was running short on time and multi-tasking. But, I also wanted to be sure I could keep the steak medium-rare inside; the piece I selected from the grocery store was quite thin already. In hindsight, I should have sliced it anyway or let it marinate longer for the heat of the sriracha to infuse the meat.

Secondly, I used whole-wheat linguine instead of fettuccine. I don't think this had any impact on the outcome of the recipe.

Last change- I added some of the marinade to the pan when I added the tomatoes and peppers. Plus a little garlic but we LOVE garlic in this house.


Login or register to add your own review of this recipe.