Cookbook Stores
There is nothing quite like a good cookbook store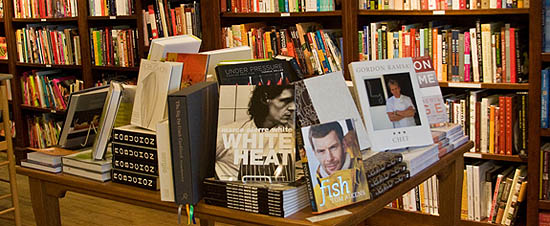 A good cookbook store is an invitation into the world of cookbooks. There are no giant chains of cookbook stores; no big box retailers. By their nature, cookbook stores are a labour of love and devotion; their owners are cooks, readers, aficionados; they are experts. Increasingly, stores are destinations too - many put on cooking classes and special events. Visit them. Buy cookbooks.
The following is a list of every cookbook store in the world (I could find) with at least some information online. These are specialty cookbook stores only - no chains and no bookstores which happen to have good cookbook sections, but also sell other books.
Please contact me if you have any corrections or updates (I've listed stores I couldn't confirm as being in operation at the bottom of the page). If you own or work for one of these stores, or a store not listed here, drop us a line.
Last updated: June 21, 2011 - Thanks Katharina!
America
Amber Unicorn Books
2101 South Decatur #14
Las Vegas, NV
America 89102
Tel: 702-648-9303
Fax: 702-648-9311
amberunicorn2

embarqmail.com
Visit website »
Ben Kinmont Bookseller
1160 Pleasant Hill Road
Sebastopol, CA
America 95472
Tel: 707-829-8715
Fax: 707-829-8719
bkinmont

gmail.com
Visit website »
Bonnie Slotnick Cookbooks
163 West Tenth Street
New York, NY
America 10014-3116
Tel: 212-989-8962
Fax: 212-989-8102
bonnieslotnickbooks

earthlink.net
Visit website »
Book Larder
4252 Fremont Ave. N
Seattle, WA
America 98103
Tel: 206-397-4271
info

booklarder.com
Visit website »
Cook Books by Janet Jarvits, Bookseller
1388 E. Washington Boulevard
Pasadena, CA
America 91104
Tel: 626-296-1638
cookbkjj

cookbkjj.com
Visit website »
Cookbooks Plus
24267 Main Street
Santa Clarita, CA
America 91321
Tel: 661-296-4455
Toll free: 877-352-9713
Visit website »
Craig Claiborne Bookstore
Culinary Institute of America 433 Albany Post Road
Hyde Park, NY
America 12538
Tel: 845-452-7648
Toll free: 800-677-6266
Visit website »
Heirloom Book Co.
123 King St.
Charleston, SC
America 29401
Tel: 843-469-1717
info

heirloombookco.com
Visit website »
Jessica's Biscuit
Online Cookbook Store
Newton, MA
America
Toll free: 1-800-878-4264
customerservice

ecookbooks.com
Visit website »
Kitchen Arts and Letters
1435 Lexington Ave.
New York, NY
America 10128
Tel: 212-876-5550
Fax: 212-876-3584
letters

kitchenartsandletters.com
Visit website »
Kitchen Witch
631 Toulouse St. (French Quarter)
New Orleans, LA
America 70130-2125
Tel: 504-528-8382
kwitchen1

aol.com
Visit website »
Omnivore Books on Food
3885a Cesar Chavez Street
San Francisco, CA
America 94131
Tel: 415-282-4712
info

omnivorebooks.com
Visit website »
Rabelais
86 Middle Street
Portland, ME
America 04101
Tel: 207-774-1044
Fax: 207-774-1055
info

rabelaisbooks.com
Visit website »
Salt & Pepper Books
125 Mill Street #6
Occoquan, VA
America 22125
Tel: (703) 491-4411
info

saltandpepperbooks.com
Visit website »
Stir
102 Waltham Street
Boston, MA
America 02118
Tel: 617-423-7847
info

stirboston.com
Visit website »
The Cookbook Stall
Reading Terminal Market 12th and Filbert St.
Philadelphia, PA
America 19107
Tel: 215-923-3170
Visit website »
The Cookbook Store in Kensington
4108 Adams Avenue
San Diego, CA
America 92116
Tel: 619-284-8224
cookwithbabs

cox.net
Australia
Books for Cooks
233-235 Gertrude St.
Fitzroy, VIC
Australia 3065
Tel: 61-3-8415-1415
Fax: 61-3-8415-1418
shop

booksforcooks.com.au
Visit website »
The Cookery Book
44 Sailors Bay Rd.
Northbridge, NSW
Australia 2063
Tel: 02-9967-8211
Fax: 02-9967-8578
cookerybook

cookerybook.com.au
Visit website »
Vintage Cookbooks
79 Monbulk Rd.
Kallista, VIC
Australia 3791
Tel: 03-9755-3890
barbara

vintagecookbooks.com.au
Visit website »
Austria
Babette's Spice and Books for Cooks
Schleifmühlgasse 17
A-1040 Wien
Austria
Tel: 43-1-585-5165
Fax: 43-1-585-5165/4
info

babettes.at
Visit website »
Belgium
Labyrint Culinaire Boekhandel
Dr. M. Timmermanslaan 13
B-2170 Antwerpen - Merksem
Belgium
Tel: 32-03-646-48-01
Fax: 32-03-646-48-31
Mollet Kookboeken
Volkstraat 9
B-2000 Antwerpen
Belgium
Tel: 03-238-89-59
Fax: 03-238-88-1
contact

molletkookboeken.be
Visit website »
Brazil
Livraria Cultura - Conjunto Nacional
Av. Paulista, 2073
01311-940 - Bela Vista Sao Paulo
Brazil
Tel: (11) 3170-4033
Toll free: (11) 3285-4457
livros

livrariacultura.com.br
Visit website »
Canada
Appetite for Books
388 Victoria Avenue
Westmount, QC
Canada H3Z 2N4
Tel: 514-369-2002
Fax: 514-369-2902
appetitebooks

bellnet.ca
Visit website »
Barbara-Jo's Books to Cooks
1740 West 2nd Avenue
Vancouver, BC
Canada V6J 1H6
Tel: 604-688-6755
Toll free: 866-688-6744
Fax: 604-688-6759
bookcook

intergate.ca
Visit website »
Good Egg
267 Augusta Ave.
Toronto, ON
Canada M5T 2M2
Tel: 416-593-4663
Fax: 416-593-4669
Visit website »
Librairie Gourmande
Marche Jean Talon, 7070 Henri Julien
Montreal, QC
Canada
Tel: 514-279-1742
Fax: 514-279-9822
Visit website »
The Cookbook Company Cooks
72-11 Ave SW
Calgary, AB
Canada T2R 0E4
Tel: 403-265-6066
Fax: 403-262-3322
cook

cookbookcooks.com
Visit website »
The Cookbook Store
850 Yonge Street
Toronto, ON
Canada M4W 2H1
Tel: 416-920-2665
Toll free: 1-800-268-6018
Fax: 416-920-3271
cooking

ican.net
Visit website »
France
Henri-Pierre Millescamps
7, rue Saint-Front
24000 Périgueux
France
Tel: 0553-09-53-25
Fax: 0553-09-85-38
millescamps.books

wanadoo.fr
Visit website »
La Cocotte
5 rue Paul Bert, 11th
75011 Paris
France
Tel: 09-54-73-17-77
andrea

lacocotte.net
Visit website »
La Librairie Gourmande
90 rue Montmartre, 2nd
75002 Paris
France
Tel: 1-43-54-37-27
Fax: 1-43-54-31-16
Visit website »
Rémi Flachard
9 rue du Bac, 7th
75007 Paris
France
Tel: 01-42-86-86-87
Germany
Bibliotheca-Culinaria
Zehdenicker Straße 16
10119 Berlin
Germany
Tel: 030-47-37-75-70
Fax: 030-47-37-75-72
info

bibliotheca-culinaria.de
Visit website »
BuchGourmet
Hohenzollernring 16-18
D-50672 Köln
Germany
Tel: 0221-2574072
Fax: 0221-255305
buchgourmet

netcologne.de
Visit website »
Frank Petzchen Kochbücher & Kochseminare
Benrather Straße 6
40213 Düsseldorf
Germany
Tel: 0211-152-09-71
Fax: 0211-152-09-72
service

frankpetzchen.de
Visit website »
Koch Kontor
Karolinenstrasse 27
20357 Hamburg
Germany
Tel: 040-43-21-60-36
Fax: 040-43-21-60-78
info

koch-kontor.de
Visit website »
kochKuntz
Siegfriedstrasse 46
33615 Bielefeld
Germany
Tel: 0521-9620277
info

kochKuntz.de
Visit website »
Kochlust
Aufbau Haus, Moritzplatz
10997 Berlin
Germany
Tel: 49-0-30-24-63-88-83
Fax: 49-0-30-24-63-88-85
info

kochlust-berlin.de
Visit website »
Siedepunkt
Warendorfer Strasse 167
48145 Munster
Germany
Tel: 0251-7608022
Fax: 0251-7608023
info

siedepunkt-buch.de
Visit website »
Hungary
Chefparade Cookbook Shop
Bécsi út 27
1023 Budapest
Hungary
info

chefparade.hu
Visit website »
Italy
'Gusto - Emporio Libreria
Piazza Augusto Imperatore
7 - 00186 Roma
Italy
Tel: 39 06.32.36.363
lalibreria

gusto.it
Visit website »
Netherlands
Cook & Book
Zwanenstraat 5a
6811 DD Arnhem
Netherlands
Tel: 06-55751413
Visit website »
De Kookboekhandel
Haarlemmerdijk 133
1013 KG Amsterdam
Netherlands
Tel: 020-6224768
info

kookboekhandel.com
Visit website »
De Sperwer
Gerard Doustraat 226
1073 XC Amsterdam
Netherlands
Tel: 020-6736896
Fax: 020-675779
juliet

kookboekenleslokaal.nl
Visit website »
Kookboek.nl
Walstraat 10
7511 GH Enschede
Netherlands
Tel: 053-4804515
info

kookboek.nl
Visit website »
Kookboekenshop
B. Diazstraat 25 - III
1057TA Amsterdam
Netherlands
klantenservice

kookboekenshop.nl
Visit website »
New Zealand
Bookfeast
173 Jackson Street
Petone
New Zealand
Tel: +64-4-576-0486
Fax: +64-4-576-0487
info

bookfeast.com
Visit website »
Cook the Books
81 Ponsonby Road
Ponsonby, Auckland
New Zealand
Tel: 9-360-6513
Fax: 9-360-6514
books

cookthebooks.co.nz
Visit website »
Sweden
Connoisseur Cookbooks
Goteborgsvagen 89
431 30 Molndal
Sweden
Tel: 46-31-201096
Fax: 46-31-7116201
info

connoisseur.se
Visit website »
Switzerland
Bibliotheca Gastronomica
Winzerstrasse 5
8049 Zurich
Switzerland
Tel: 44-3-41-97-84
Fax: 1-3-41-97-90
Librairie Gasterea
Rue Cite-Derriere 3
CH-1005 Lausanne
Switzerland
Tel: 41 21 312 28 23
Fax: 41 21 312 28 25
gasterea

citycable.ch
Visit website »
United Kingdom
Books for Cooks
4 Blenheim Crescent
Notting Hill, London
United Kingdom W11 1NN
Tel: 020-7221-1992
Fax: 020-7221-1517
info

booksforcooks.com
Visit website »
Cooking: The Books
Unit 2, The Courtyard, Montpellier St
Cheltenham
United Kingdom GL50 1SR
Tel: 44-1242-577-908
cooking

thebooks.fslife.co.uk
Visit website »
The CookBook Shop
Unit 11, Albion Mills, Miry Lane, Thongsbridge
Holmfirth, HD9 7HP
United Kingdom HD9 7HP
Tel: 01484-685030
Visit website »

Thanks
I'm indebted to the list posted online at Sally's Place for giving me some starting points, but it appears to be at least 10 years old, and there are some wonderful new stores (and some sad disappearances) not reflected in her list. Thanks also to Jason at the Food in the Library Blog for a handy map. Thanks to member Friederike who sent a useful list from Valentina's Kochbuch (German) as well as a list of several stores in Belgium and the Netherlands. Thanks to Celia at Omnivore Books in San Francisco, who let me know about Kitchen Witch and also about the vanishing of La Librairie des Gourmets from Paris. Thanks to Katharina at Valentina's Kochbuch (a fantastic German cookbook site, by the way) who has kept me up to date on German/European bookstores.
Gone, but not forgotten
There have been some classic cookbook stores which have been gone longer than my list of 'vanished' stores, but deserve to be remembered. I'm listing them as I hear of them. Many thanks to Susan Betz for getting me started on this.
United States
Cook's Library, Los Angeles, CA: closed in April, 2009, after 30 years in operation.
Corner Book Shop, Manhattan, NY: A few years after opening in 1940, Eleanor Lowenstein began to carry primarily books on food, cookery, and wine. Until late 1980, her shop was the one to go to in the US for culinary publications. She was also known for her two revised editions (1954 and 1972) of Waldo Lincoln's bibliography, American Cookery Books, both published by the American Antiquarian Society in Worcester, MA.
Wine & Food Library, Ann Arbor, MI: After closing this bookstore, former proprietor Jan Longone has been the curator of the culinary collection (much of it donated by her) at the Clements Library on the University of Michigan campus for the last 10 years, and is retiring.
Germany
cri.cri Kochbuch, Frankfurt, Germany; closed in 2010.
Notes on vanished/left-out stores
The following stores were not included in my main list. They are either closed or I was unable to find confirmation that they were still operating, or they are not true specialty cookbook stores. Let me know if I'm in error about any of them:
Canada
Books for Cooks, London, ON, Canada: closed in 2009.
Bon Appetit Cook Books, Montreal, QC, Canada - now known as 'Appetite for Books'
United States
The Kitchen Shelf, Brookline, MA
Specialty Books Company, New York, NY
Cookbooks & Lavender, Pittsburgh, PA
Hoppin Johns, Charleston, SC
Hervey's, Richardson, TX: wholesale only, if it's still in operation.
Cookbook Cottage, Seattle, WA


Europe
Thrill and Chill, Vienna, Austria: apparently has a good cookbook section, but is not primarily a cookbook store.
Menu Plaisir, Redu, Belgium: was an antiquarian bookstore in an old house; can't confirm it is still a cookbook specialist.
Kunst & Kokkentoj, Copenhagen, Denmark: has some cookbooks, but is mainly a kitchenware store
Kookpunt, Netherlands: has about 700 cookbook titles, but is mainly a kitchenware store
Food, Paris, France
Tour du Monde, Paris, France
La Librairie des Gourmets, Paris, France
Librairie Montaut, Bordeaux, France
Librairie Jeanne Laffitte, Marseilles, France: still there, but not primarily a seller of cookbooks.
Libraire les Mots Bleus, Trouville-sur-Mer, France: appears to still be there, but not primarily a seller of cookbooks.
Mataes Buchhandlung, Frankfurt, Germany
Buchhandlung Fuer Essen und Trinken: Munich, Germany
Literatur Moths, Munich, Germany: Not a specialty cookbook store, though an interesting store.
Goldhahn & Sampson, Berlin, Germany: More of a deli and specialty food store, with some cookbooks, than a cookbook store.
De Gustibus, Bologna, Italy
The Cook's Bookshop, Edinburgh, Scotland
Clarin Libros, Madrid, Spain
Bofinken, Oslo, Sweden
Food for Thought, Holt, UK

Elsewhere
Golgottia, New Delhi, India
Exclusive Books, South Africa: a chain of regular bookstores
The Antique Bookshop & Librería de Antaño, Buenos Aires, Argentina: not primarily cookbook stores.

*Image from Barbara Jo's Books to Cooks in Vancouver, BC. Photo used under Creative Commons license from Flickr user Roland