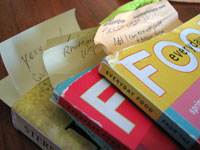 Retire your sticky notes
There's a better way to keep track of your favorite cookbook recipes. Cookbooker lets you catalogue, rate and review recipes from your favorite cookbooks, magazines and websites, then find out what other cooks think about them.
We bring the power and usefulness of an online community to your kitchen. Cookbooker is a search engine for your bookshelf. Sign up now.
Cookbooker Challenge
We're delighted to announce our newest challenge. This book explores the wonderful array of recipes the Times has contributed to food culture and the kitchens of the nation (and world) for the past 150 years. We're going to collaboratively cook and review as many recipes as we can. Come join us! more »
Newest Article
In what is clearly an emerging trend, Kickstarter, the crowdfunding website, has helped several cookbooks go from idea to actual product, with at least one traditional publishing deal resulting.
more articles »
How Cookbooker Works
The Web is a fantastic place for ratings, reviews and sharing opinions on everything, including recipes. But what about the millions of recipes locked up in cookbooks and food magazines? Until now they've been left out of the discussion.
1. Add your cookbooks


Add books, magazines, food blogs & websites to your online bookshelf. If other members own them you'll be able to see their ratings and recipe reviews right away.

2. Review your favorite recipes


Add comments and suggestions, additions, substitutions and private notes. You'll be able to easily search them later.

3. Explore


Find opinions about recipes you own but have never tried, and cookbooks you might like to buy.

4. Feel free


It costs nothing to join. You can search and browse without even becoming a member.
Find out more about Cookbooker.
Recently Reviewed on Cookbooker
We normally only like the deviled eggs like my Mom has always make them but these...
At first glance, I thought this recipe might be an asparagus version of this cocktail,...
A very simple, traditional tahini sauce. It is worth the small extra bit of effort...
Simple and tasty, as roasted cauliflower usually is. The capers are a nice addition.
This is the first time I've made a paneer dish with spices incorporated in the paneer...
Bunyip reminded me that I have this book, the antidote to the Downton Abbey cookbook...
View more recipe reviews.