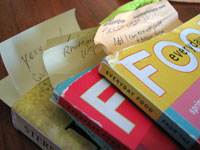 Retire your sticky notes
There's a better way to keep track of your favorite cookbook recipes. Cookbooker lets you catalogue, rate and review recipes from your favorite cookbooks, magazines and websites, then find out what other cooks think about them.
We bring the power and usefulness of an online community to your kitchen. Cookbooker is a search engine for your bookshelf. Sign up now.
How Cookbooker Works
The Web is a fantastic place for ratings, reviews and sharing opinions on everything, including recipes. But what about the millions of recipes locked up in cookbooks and food magazines? Until now they've been left out of the discussion.
1. Add your cookbooks


Add books, magazines, food blogs & websites to your online bookshelf. If other members own them you'll be able to see their ratings and recipe reviews right away.

2. Review your favorite recipes


Add comments and suggestions, additions, substitutions and private notes. You'll be able to easily search them later.

3. Explore


Find opinions about recipes you own but have never tried, and cookbooks you might like to buy.

4. Feel free


It costs nothing to join. You can search and browse without even becoming a member.
Find out more about Cookbooker.
Recently Reviewed on Cookbooker
Half recipe made only about 1-1/2cup, rather than 2-1/2cups advertised. Tasty stuff.
Delicious steak, delicious sauce. - Apparently French cows have no flanks, so I...
My co-worker gave me some excess basil from his garden, and I ended up making this...
Best shepherd's pie I've made so far! The wine and anchovies are a must.
As with most of the recipes in this book, you start with their simple custard base....
Yummy and simple shepherd's pie with a thick onion gravy.
View more recipe reviews.