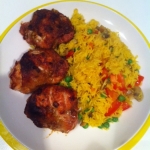 Quick spiced chicken thighs with emergency biryani
Page 187
Cuisine: Indian | Course Type: Main Courses

View photos
(1)
Recipe Reviews
This was really very good and I was very pleased with the results. The chicken, which was marinaded in sweet chilli sauce, curry powder, cumin, garlic and stem ginger syrup had a wonderful slightly sweet/slightly spicy flavour which came out perfectly. The rice was cooked with the absorption method, which I had never tried before and was very happy to get good results with. It was still slightly wet so could have probably used a few minutes more of standing and steaming, but I was just happy that it didn't stick to the bottom of the pan! The turmeric gave it a lovely bright yellow colour which went well with the brightly coloured tomatoes and peas which were mixed in.
(edited 6th August 2011) (0) comment (0) useful
Login or register to add your own review of this recipe.