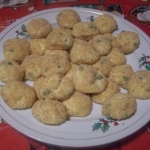 Jalapeno Bites
Page 49
| Course Type: Appetizers

View photos
(1)
Tags:
Recipe Reviews
Fairly simple to stir together and roll into balls then into bread crumbs. Not many ingredients -- Parmesan, Cream Cheese, Jalapeños and egg. We thought the Parmesan was a bit overwhelming in flavor though. We liked them but probably not enough to make again. This was another one of our Christmas Eve appetizers
(edited 25th December 2011) (0) comment (0) useful
Login or register to add your own review of this recipe.