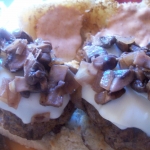 Mushroom and Swiss Sliders with Spicy Fry Sauce
| Course Type: Main Courses

View photos
(1)
Tags:
Recipe Reviews
The only reason I didn't give these a five is that 2 pounds of ground made eight almost regular sized burgers instead of slider size. These were delicious though and we loved the. Adding just a bit of heavy cream and Worcestershire sauce made the burgers so moist and delicious. I loved the spicy fry sauce which was a breeze to make with catsup, mayo, and cayenne.
I will definitely make these again.
Login or register to add your own review of this recipe.