Everyday With Rachael Ray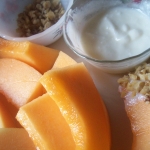 Cantaloupe Dunkers
Page 24
| Course Type: Breakfast/Brunch

View photos
(2)
Tags:
Single Review Display
Quick, easy and healthy breakfast. I didn't have pistachios so I used toasted walnuts instead. I couldn't find my ground ginger so I used a little fresh which I think was probably better anyway. If you have plain yogurt, honey, ginger, nuts and cantaloupe then you're read to dig into this healthy morning treat.
Login or register to add your own review of this recipe.