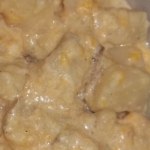 Cheesy Potato Soup
Page 238
Cuisine: North American | Course Type: Soups and Stews

View photos
(1)
Tags:
Recipe Reviews
So disappointed in this flavorless (which is amazing, considering how much cheese is in it!) soup! A customer gave my husband a huge bag of potatoes and this recipe was choosen solely because I went down the index (the first column of three for potatoes) and it used the most.

Easy to make, sure, but hardly any flavor! Will add more salt and pepper and maybe some green Tabasco to tomorrows, since it made 5 lunchtime containers!
Login or register to add your own review of this recipe.