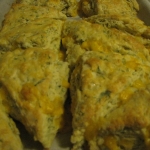 Cheddar-Dill Scones
Page 218

View photos
(1)
Tags:
Recipe Reviews
These are so good. I have a friend who asks for them every time she comes to town. I bake them and freeze them too and they taste good. So yummy.
Flakey and cheesy scones with beautiful dark green aromatic flecks of dill throughout. I found it a little confusing to my taste buds that were expecting onion or garlic flavor. The recipes worked perfectly except my scones never come out as wide or tall as the directions state, so this time I went with the ¾ tall and slightly narrower than 4" squares (that are cut into triangles). These turned out very well, but I don't see myself making them again.
Login or register to add your own review of this recipe.