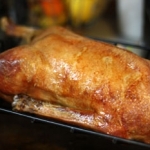 Roasted Goose
Page 427
Cuisine: Other | Course Type: Main Courses

View photos
(2)
Tags:
Recipe Reviews
andrew from Vancouver Island, BC
This is a comprehensive and very useful guide to roasting a goose. We used it to roast our very first goose and it came out perfectly. I read various directions in other books and online, and this one was the most straightforward and detailed, so it was a perfect guide for a first-timer, especially since it's important to roast a goose correctly, to drain the thick layer of subcutaneous fat.

We did not use the stuffing they recommended, simply putting onion, garlic and lemons in the goose. Otherwise we followed this exactly and got a perfectly cooked bird. The only thing I'd wish they added was a bit more information about saving and using the fat - goose fat is quite healthy and highly prized for cooking and one of the best things about roasting a goose, but all they say is to bail it out of the roasting pan as it collects. We collected and strained it, keep it in a jar in the fridge, and use it for roasting potatoes.
Login or register to add your own review of this recipe.