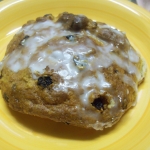 Heart-Healthy Dried Fruit Scones
Page 50
| Course Type: Breakfast/Brunch

View photos
(1)
Tags:
Recipe Reviews
I made these merely to use up some ingredients in my kitchen. While they were ok, I found the large combination of dried fruits a bit confusing to the palate as there were too many flavours in the scone. Also, they were more like a muffin top than a scone; however, since it was lower in fat, I didn't mind, but if you are hoping for a true flaky, buttery scone, this won't do it for you.
These are great scones. Filled with dried fruits, a little fresh fruit and some crystallized ginger. Loaded with flavor even though they don't contain butter or heavy cream like most scones. They have nonfat plain yogurt, nonfat buttermilk and a little canola oil instead. Not overly sweet even with the simple vanilla glaze made with confectioners' sugar.

Mind did get a bit overly browned and I only baked them 30 minutes instead of the 45 to 50 suggested. Still very tasty. A great snack for work too. I keep them in the fridge.
Login or register to add your own review of this recipe.