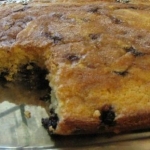 Blueberry Boy Bait
Page 111
Cuisine: North American | Course Type: Quick Breads/Muffins

View photos
(1)
Tags:
Recipe Reviews
This buttery rich blueberry coffee cake was easy to whip up. My Florida blueberries are very large so I increased the amount in the coffee cake itself as 1/2 cup looked very sparse. This would be great if you needed a blueberry coffee cake in a hurry, but is not my favorite recipe.
(edited 3rd September 2011) (0) comment (1) useful
Login or register to add your own review of this recipe.