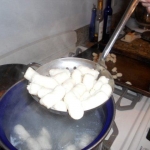 Quenelles De Brochet
Page 112
Cuisine: French | Course Type: Main Courses

View photos
(2)
Tags: AJSPRY
Single Review Display
This is a recipe for pike quenelles in a Nantes [crayfish] sauce which did not work AT ALL for Soupereasy and me. My husband had this dish at a French restaurant and begged me to see if it was doable at home. So I was pleased to find a recipe for it in the Bourdain cookbook, but -- start to finish -- the recipe presented problems.

1) The recipe is quite involved with several steps and the lay-out on the page doesn't really help.This is one of those times where Julia's two-column format would be most useful.

2) We made the crayfish sauce first and basically it never really made a sauce. There simply was not nearly enough liquid called for and we ended up with something like a sauteed/steamed crayfish to serve with the quenelles.

3) The recipe called for five pounds of pike for which we substituted basa which is more readily available to us. All of that fish has to go in a food processor with egg whites and some heavy cream. We did this in two batches and it made for a HUGE amount of fish ... enough to feed maybe 12-15 people rather than the 6-8 the recipe indicated.

4) Once the fish is processed, you have to make a choux dough which is then briefly cooled and folded into the fish. This was a smooth process at which point we made some preliminary quenelles to taste for seasoning and dropped them in boiling water to cook for 10 minutes per the instructions. Bourdain suggests putting them in the water serially and clockwise around the pot and then taking them out in the order you put them in. The problem? Those quenelles, once in the water, have no respect for the process, and pop merrily all around the pot.

5) It would have taken two of us more than an hour to make quenelles from all that fish. We ended up using a pastry bag and piping pieces about the size of a large gnocchi, which we then popped into the water. The quenelles were light, and had a lovely delicate flavor and texture. They were then supposed to go into a baking dish, be covered with sauce (which of course we didn't have) and baked for 30 minutes. Soupereasy whipped up a butter and sage sauce and we used that instead. We also baked a few with some of the crayfish. Very disappointing. But the butter and sage sauce with the fish was quite nice.

After we ate, we pulled one of Alain Ducasse's cookbooks off Soupereasy's shelves since it was at one of his bistros that my husband first had the dish. First thing we noticed? Alain used half the pike and twice the liquid.

(edited 15th October 2011) (0) comment (1) useful
Login or register to add your own review of this recipe.