Everyday Food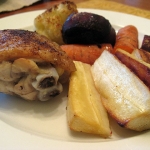 Chicken Legs with Carrots and Cauliflower
Page 98
Cuisine: North American | Course Type: Main Courses

View photos
(1)
Tags:
Single Review Display
The chicken thighs are perfect for this recipe - very moist (keep the skin on!) and succulent. The carrots and cauliflower are delicious cooked in the chicken juices and spices. You can also use different vegetables like parsnips, beets, etc. I like that you can just whip this recipe together and throw it in the oven and just have one pan to clean up.

NOTE: The high cooking temperature is important. The recipe's "Roasting Tips" are very helpful.
Login or register to add your own review of this recipe.