Everyday Food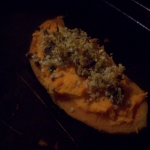 Twice-Baked Sweet Potatoes
Page 89
| Course Type: Sides

View photos
(1)
Tags:
Recipe Reviews
These were very good. My daughter and I made a meal out of them by adding a massaged kale salad. Love the creaminess the goat cheese and butter gave to the sweet potato and the crunch the topping of panko and pecans gave to the finished dish as well as the taste of the chives along with the rest of the ingredients. Son who doesn't usually like sweet potatoes unless there's sugar involved said these were pretty good and he'd love the filling in a regular potato.
(edited 27th November 2011) (0) comment (1) useful
Login or register to add your own review of this recipe.