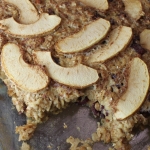 Oatmeal Breakfast Clafoutis
| Course Type: Breakfast/Brunch

View photos
(1)
Tags: almonds nuts dried cranberries breakfast oat meal
Recipe Reviews
Nice texture, good flavor, and just the perfect amount of sweetness (for me).

I'm generally not a fan of baked oatmeal, but the ease of preparation and inclusion of dried cranberries made me want to try this. I'm glad I did! It is not mushy, like the dried oatmeals I tried previously.

I used raw almonds (chopped) for the nuts, all cranberries for the dried fruit, old fashioned oats, and a fuji apple for the fresh fruit. However, this recipe is widely adaptable for what you have at home. I was also trying to use up the tail end of a bottle of vanilla, and so doubled that (to 2 tsp).

According to wikipedia, a clafoutis is a baked flan-like dessert, generally made with cherries. This particular recipe was not very flan like. Hmm, this now has me thinking about dessert!

(edited 18th December 2011) (0) comment (1) useful
Login or register to add your own review of this recipe.