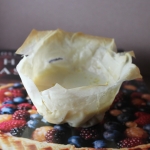 Panna Cotta Fillo Flowers
Page 377
| Course Type: Desserts

View photos
(2)
Tags:
Recipe Review
Vanilla panna cotta (cream, sw. condensed milk, vanilla bean, and gelatin) provides a great smooth creamy dessert. It is placed inside a "flower" of fillo (phyllo).

When I decided to prepare this (to become familiar with fillo, which previously defeated me), I thought the phyllo was largely decorative. But I hadn't counted on the amazing experience of biting through super crunchy phyllo, and into the creaminess of the panna cotta. Its a marvelous combination.

I will say that the amount of gelatin called for seems a bit on the high side. I cut it by about 1 gram, and the panna cotta was still rather firm (24 hours in the refrigerator).
Comments
Peckish Sister - 5th February 2012
I never noticed this recipe before. Nice photo, the recipe looks work doing, I like the photo background.
Queezle_Sister - 5th February 2012
It was much easier than most of the recipes in this book. I'm a big fan of panna cotta, and my kids are big fans of dessert!
The most difficult part was figuring out how to bake the fillo. For two of them, I did not use a second cup inside the first (to hold the fillo in place), and I didn't have any real problems.
Login or register to add your own comments.