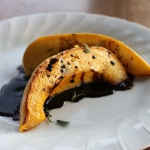 Roasted Acorn Squash with Hazelnuts and Balsamic Reduction
Page 84
| Course Type: Sides

View photos
(1)
Recipe Reviews
A fancied up acorn squash. Slices of squash (1/8th) are rubbed with hazelnut oil, salt, and pepper, and roasted.

I had no creme fraiche, and skipped that ingredient (and its accompanied roast garlic). A balsamic reduction is made, and spread on the squash, along with toasted hazelnuts and some fresh oregano.

The result was very beautiful. I used a white acorn (it came in my CSA), and I suspect it didn't have as much flavor as I expected. A sweeter squash would have been a better accompaniment to the reduction, and of course, the creme fraiche would have further elevated this dish.

I'm a real fan of fall squash, and this was a new way (to me) to prepare it. Very decent.
Login or register to add your own review of this recipe.