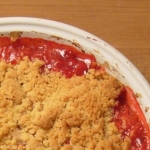 Strawberry-Rhubarb Crumble
| Course Type: Desserts

View photos
(3)
Tags: summer rhubarb Crumble strawberries berries spring keeper
Single Review Display
This was delicious and so easy! Followed recipe exactly - did not skimp on the sugar since my berries weren't super sweet and it was perfect. Crumble topping was buttery and crisp. Baked full 50 minutes.
(edited 4th September 2022) (0) comment (0) useful
Login or register to add your own review of this recipe.