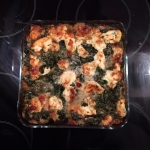 Creamy Spinach Lasagna / Romige spinazielasagne
| Course Type: Main Courses

View photos
(1)
Tags: pasta spinach lasagna gratins and casseroles oven baked pasta
Recipe Reviews
Very delicious! My MIL made this last night, and it was really good! She's considering mixing the mascarpone with the meat sauce directly because she had a few bites of mascarpone with too little meat sauce or spinach, but I didn't even notice.

Edited 30. October 2016:
I made this lasagna tonight, and I get why my MIL was considering mixing the mascarpone through the meat sauce - it's simply impossible to spread it in a single layer, scattering small bits of mascarpone on each layer with the help of two teaspoons is the best you will manage - and it simply doesn't look nice, as you can see from the photo. My first thought was to add a little milk, but I'm not sure if you wouldn't add too much liquid that way, and of course that would be an extra step, and more dishes to wash.

Definitely remember to defrost the spinach, otherwise you won't be able to layer that either (you might even want to chop it, if you don't mind the extra step). Although not mentioned, I squeezed most of the liquid out of the spinach, and also added a finely diced carrot to the meat sauce (never miss a chance to add extra vegs!). Also, keep an eye on the lasagna, mine browned pretty quickly, so I had to cover it with aluminium foil again for the last ten minutes or so.
(edited 30th October 2016) (0) comment (0) useful
Login or register to add your own review of this recipe.