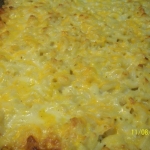 Macaroni and Cheese Deluxe
Page 102
| Course Type: Main Courses

View photos
(1)
Tags:
Recipe Reviews
My daughter requested this as part of her birthday supper this year. It was great and cheesy. Love the swiss, cheddar and Parmesan in this one. It makes a huge amount though.
(edited 12th November 2010) (0) comment (1) useful
Login or register to add your own review of this recipe.