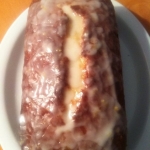 Lemon Yogurt Cake
Page 168

View photos
(4)
Tags: lemon cake dessert ina garten
Recipe Reviews
I love lemon and I appreciate the flavor of this cake, the texture unfortunately was a little dense. I may try this again, using room temperature ingredients, separating the egg yolks from the whites and whipping the whites before folding into the batter to see if I can get a lighter cake.
(edited 2nd August 2023) (0) comment (0) useful
Whether it's healthy or not, this is one of my favorite loaf cakes. It's a pound cake. It's very moist and one of my favorite recipes.
I love lemon. Between the cake, the lemon syrup and the glaze, this is very lemony. I even added a little bit of lemon zest to the glaze for color and flavor. The consistency of the cake, though, is a little odd- maybe because it is drenched in syrup and has oil in it.

Don't let Ina try to fool you. In the descriptive paragraph she comments about how this recipe doesn't have a pound of butter like most of her recipes so it's 'healthier' than many of her cakes. Well, it does have tons of sugar, whole fat yogurt and a 1/2 cup of oil. Let's agree that this is 100% a dessert and not at all healthy! It is yummy, though.
(edited 11th May 2011) (0) comment (1) useful
Login or register to add your own review of this recipe.