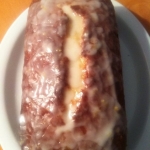 Lemon Yogurt Cake
Page 168

View photos
(4)
Tags: lemon cake dessert ina garten
Single Review Display
I love lemon and I appreciate the flavor of this cake, the texture unfortunately was a little dense. I may try this again, using room temperature ingredients, separating the egg yolks from the whites and whipping the whites before folding into the batter to see if I can get a lighter cake.
(edited 2nd August 2023) (0) comment (0) useful
Login or register to add your own review of this recipe.