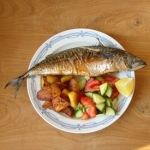 Fried Mackerel with Fresh Summer Salad
Page 112
Cuisine: Scandinavian | Course Type: Main Courses

View photos
(2)
Tags: tomatoes summer cucumber potato fish mackerel fat fish keeper
Recipe Reviews
I love the fried mackerel-so healthy too. I love this cookbook.
A very nice, very simple and very summery dish! I didn't bake the potatoes in the oven but cooked them until they were half-done and then finished them frying. The salad was nice and fresh.

The mackerel was really delicious. Frying gave a wonderful crispy skin, absolutely recommended. Be sure you clean it properly, even if you've been assured that it's been cleaned already, and make sure you have a pan that is large enough to hold the whole fish(es) (or get smaller specimen)!
(edited 2nd February 2013) (0) comment (0) useful
Login or register to add your own review of this recipe.