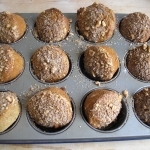 Hazelnut Muffins
Page 179

View photos
(2)
Recipe Reviews
Oh my, these are good. Not too sweet, with taste that is both robust and elegant. I used roasted hazelnuts without the skins (which is what I had in the house), and they paired beautifully with the partially browned butter and teff flour.

But the sizing is definitely American. The recipe says it makes 10 muffins. I made 14, and they are not small muffins. The hazelnut streusel topping was also too much. I used only 2/3 of it, but this will be good on my morning yogurt or porridge.

These were lovely! The hazelnuts paired incredibly well with the teff flour and keeping the skins on added an incredible taste and saved a lot of time.
Login or register to add your own review of this recipe.