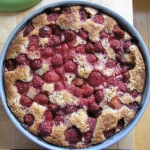 Strawberry Summer Cake
| Course Type: Cakes

View photos
(2)
Tags:
Single Review Display
I made a half recipe to take to a group function. Mine rose a lot and wasn't all that attractive; It would probably look better if made in the pan called for; I think it needs the surface area to place the berries. Tasted nice though and very easy. Not sure if I'd make this again.
Login or register to add your own review of this recipe.