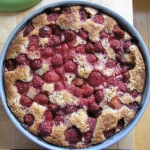 Strawberry Summer Cake
| Course Type: Cakes

View photos
(2)
Tags:
Recipe Reviews
I made a half recipe to take to a group function. Mine rose a lot and wasn't all that attractive; It would probably look better if made in the pan called for; I think it needs the surface area to place the berries. Tasted nice though and very easy. Not sure if I'd make this again.
Really easy and very tasty! I'm sure I will be making this again during this great strawberry season.
So this cake seems very popular right now, but as British strawberries are having a good season and I needed something to take to a family dinner, I thought it would be ideal. It was very easy to put together and came out beautifully. I used a 9 inch springform tin as suggested as a possibility in the recipe, which worked perfectly. I also quartered the strawberries instead of just halving them as they were quite huge. The juice from the strawberries seeped nicely into the cake making it very moist, but not too mushy and everyone seemed to really enjoy it and were coming back for seconds. It went very well with cream poured on top, but was also moist enough on its own. I will definitely make this again and may try it with other fruit, such as blueberries or raspberries.

Edit: Forgot to add earlier that I only used plain flour as I had loads of it in my cupboard (and no barley flour) and it tasted really good.
(edited 19th June 2011) (0) comment (1) useful
This is a solid recipe, it makes a nice cake and its a good way to use up strawberries. i baked mine in a deep dish 9 inch pan, and it came to the edge but no spillover.

My children suggested that we should have drizzled chocolate over the top.

To me, this wasn't as good as the various rhubarb-strawberry recipes on the SK web site.
This recipe is simple and delicious. Definitely a keeper that can be adapted to other fruits as well. I really liked the delicate flavour the barley flour added.

The strawberries I used were wonderfully sweet and I found the amount of sugar to be too much. Next time I make this, I will cut the sugar by up to a quarter of a cup.

I made this recipe in a 9-inch cake pan and had no problem with overflowing.
This cake is incredibly simple to make and yet manages to capture the essence of summer. I even made this at 9,000-ft altitude and it came out wonderfully. Don't forget to sprinkle the sugar on top (like I almost did) because it does help the strawberries to get nice and gooey, and makes a delicious crunchy crust.

The recipe calls for a 10" pie dish but I only had a 9" one available. The batter fit but I had one minor spillover during baking, so if you have a smaller pan you'll probably want to put a baking sheet below it. I would recommend using the larger pie dish if you have it because it will make the cake slightly thinner and allow you to put the full pound of halved strawberries on top (I ran out of room).
Login or register to add your own review of this recipe.