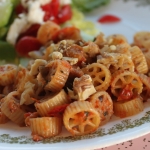 Rigatoni with Eggplant Puree
Cuisine: North American | Course Type: Main Courses

View photos
(1)
Tags:
Recipe Review
This dish was more than just delicious. The substance of the pasta sauce comes from vegetables (eggplant and cherry tomatoes) roasted with garlic, olive oil and spices. I substituted smoked paprika for red pepper flakes. But the surprise was that the roasted vegetables were processed with fresh mint. This gave an amazing flavor. Had I not made it, I would have been hard pressed to guess the ingredients. The mint was there, but not distracting or overwhelming.

A few notes - I couldn't bring myself to process all of the beautiful vegetables, so my final sauce was half processed and half the regular chunks. I also used only about 1/2 C of pasta water. And I did add about 1 T balsamic vinegar at the end.

This recipe does suffer from the "one medium eggplant" and "pint of cherry tomatoes" vagueness. I used two small eggplants. weighting about 14 ounces together, or 400 grams. After they were cut to 1 inch chunks (maybe closer to 3/4 inch for me), I eyeballed an equal amount of cherry tomatoes (probably about 16 ounces).

We used baby wagon wheel pasta instead of rigatoni. Also I substituted toasted walnut for the pine nuts.

My two non-eggplant lovers rated this "4" and they were overruled by the girls, who love eggplant, and even more, loved this this dish.
Comments
Leeka - 14th June 2011
Oh wow, I'm a huge lover of eggplant so I'm going to give this recipe a try. I also have a ton of mint growing wild in my backyard that I have no idea what to do with. I don't use fresh mint in a lot of recipes so I look forward to testing this out. Your photo is fantastic!

Great review!
Queezle_Sister - 14th June 2011
Thanks, Leeka. I thought we had enough for 2 dinners, but as the evening progressed, my kids (12 and 15) ate all the leftovers - it really is that good!.
Login or register to add your own comments.