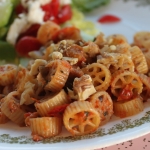 Rigatoni with Eggplant Puree
Cuisine: North American | Course Type: Main Courses

View photos
(1)
Tags:
Recipe Reviews
This dish was more than just delicious. The substance of the pasta sauce comes from vegetables (eggplant and cherry tomatoes) roasted with garlic, olive oil and spices. I substituted smoked paprika for red pepper flakes. But the surprise was that the roasted vegetables were processed with fresh mint. This gave an amazing flavor. Had I not made it, I would have been hard pressed to guess the ingredients. The mint was there, but not distracting or overwhelming.

A few notes - I couldn't bring myself to process all of the beautiful vegetables, so my final sauce was half processed and half the regular chunks. I also used only about 1/2 C of pasta water. And I did add about 1 T balsamic vinegar at the end.

This recipe does suffer from the "one medium eggplant" and "pint of cherry tomatoes" vagueness. I used two small eggplants. weighting about 14 ounces together, or 400 grams. After they were cut to 1 inch chunks (maybe closer to 3/4 inch for me), I eyeballed an equal amount of cherry tomatoes (probably about 16 ounces).

We used baby wagon wheel pasta instead of rigatoni. Also I substituted toasted walnut for the pine nuts.

My two non-eggplant lovers rated this "4" and they were overruled by the girls, who love eggplant, and even more, loved this this dish.
(edited 14th June 2011) (2) comment (3) useful
Login or register to add your own review of this recipe.