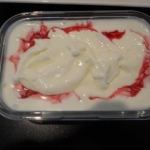 Sweet Corn and Raspberry Ice Cream
Cuisine: North American | Course Type: Desserts

View photos
(3)
Tags:
Recipe Reviews
I gave the recipe a rating of very good although, of the four people who were served this ice cream, I am the only one who really enjoyed the sweet corn flavor. But we all really liked the rich and creamy texture of the ice cream. And the technique to get there seems pretty much foolproof.

The raspberry sauce (raspberries and sugar heated until a sauce results) is swirled into the churned ice cream before freezing it. Since there is more sauce than you'll need for swirling, leftovers can be drizzled over the scooped ice cream if you like.

Yesterday, I made the chocolate ice cream from the same issue and there were no mixed feelings. Very high marks all around.

The recipe comes from the August/September Saveur and is also available at the Saveur website. The article from which the recipe comes is about the technique used to make "Jeni's Splendid Ice Creams", an Ohio-based chain of shops that features some very interesting flavor combos (e.g. beet-mascarpone-poppy seed).

The technique -- which uses no egg yolks -- is described in detail and the rationale for every step is explained in terms of the underlying food chemistry. The result is an interesting article and a very dense and creamy ice cream. Nice.

"Jeni's Splendid Ice Creams" was published earlier this year and the hardback version has a few typos (specified in the reviews at Amazon). Apparently a 2nd edition -- with typos corrected -- is on the way, but I may not be able to wait that long to try the salty caramel ice cream.
(edited 22nd August 2011) (1) comment (2) useful
Login or register to add your own review of this recipe.