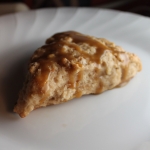 Banana Bread Scones with Brown Sugar Glaze
| Course Type: Breads

View photos
(1)
Recipe Reviews
Crunchy and tender, mild banana flavor.

These were easy to make, and they were a good Saturday morning breakfast. I toasted the walnuts for extra flavor. The recipe cautions that the dough will be very wet - and it has you freeze it for 30 minutes prior to baking. My dough wasn't that wet, but I went ahead and froze it first. In my freezer, the 30 minutes merely made it cold. These baked up nicely.

The glaze is very nice, but the recipe makes at least twice what one requires. My daughter didn't mind that at all...

I liked that these were not too sweet, and found the walnuts to be a welcome crunch.
Login or register to add your own review of this recipe.