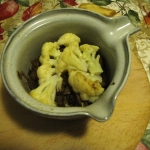 Beef Tagine with Cauliflower
Page 265
Cuisine: Moroccan/Algerian/Tunisian | Course Type: Main Courses

View photos
(1)
Tags: cauliflower meat low-carb Moroccan long cooking
Recipe Reviews
I made this delightfully savory tagine with beef stew meat. I used one head of cauliflower and did not weigh the cauliflowerets, so I made have been a little short there. I did the final baking step in individual casseroles as everyone ate at different times and that turned out brilliantly. I agree with Wester that without fat or some of the gravy on top the cauliflower can't brown very well. I will make this again.
Not bad, but won't bother with this again.

The spices smelled really good when starting the cooking, but in the end result they were barely noticeable. I suspect spices and aromatics will have to be doubled, at least, and/or be re-added near the end of the cooking.
And why try to "lightly brown" a cauliflower without adding any oil? Even mixing it a bit with the meat might have helped it brown.
(edited 7th October 2011) (0) comment (2) useful
Login or register to add your own review of this recipe.