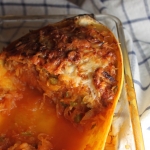 Spaghetti Squash with Sausage Stuffing
| Course Type: Main Courses

View photos
(1)
Tags: easy CSA kid-friendly pot-luck
Recipe Reviews
Comfort food --- with hidden vegetables.

This spaghetti squash is cooked, and mixed with pre-cooked sweet Italian sausage, bell peppers, onion, garlic, and marinara sauce (I used Prego). Its then stuffed back into the squash shell, sprinkled with Parmesan, and baked.

My kids (13 and 16 yrs old) couldn't get enough of this. Its not the healthiest dish (meat), but probably its still 80% vegetables, so not too bad. I will definitely make this one again.

It would also work well for a pot luck.
Login or register to add your own review of this recipe.