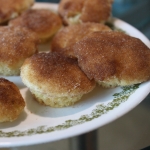 Cinnamon Brown Butter Breakfast Puffs
| Course Type: Breakfast/Brunch

View photos
(1)
Tags: easy cinnamon muffin sweet
Recipe Reviews
Sweet nutmeg flavor, very tender, and delicious.

The brown butter (for dipping) gives an excellent flavor - to use less butter, I brushed it on tops rather than dipped.

We baked half in a miniature muffin pan, and half in a full sized pan. I found that these were so tender that they tended to fall apart - separating the cap from the stem. We gleefully ate all these "defective" puffs, so maybe it isn't such a terrible problem ;-)

These are perfect for a slow morning deserving of something delicious, but not too serious.
Login or register to add your own review of this recipe.