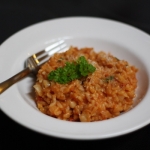 Risotto with Tomatoes and Beans
Page 118

View photos
(1)
Tags:
Recipe Reviews
This is an excellent, hearty meal. It's almost perfect as it appears in the book. We sometimes substitute other beans for the navy or white kidney beans recommended, but they have to be mild or they affect the flavour. Romano beans are quite good, but we found black eyed peas to be too strong. We often skip the red pepper flakes as they're too hot for the kids, but splash some Chipotle Tabasco sauce in the adult bowls for a nice bit of heat!

This isn't really a classic, creamy risotto, but more of a hearty, stick-to-the-ribs dish, perfect for cold evenings.
(edited 7th February 2009) (0) comment (0) useful
Login or register to add your own review of this recipe.