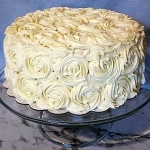 Golden Dream Wedding Cake
Page 397
| Course Type: Cakes

View photos
(2)
Tags: almonds white chocolate buttercream lemon oil lemon syrup
Recipe Reviews
I didn't make a wedding cake, but I did make a cake for my mother. This is a delicious, moist, almond cake flavoured with lemon (oil, zest and syrup) and frosted with a silky, lemony, white chocolate-vanilla bean buttercream.

The recipe is easy to scale down: I just made 2/3 of the batter and syrup intended for the 6" and 9" tiers and 1 batch of the frosting to make a 9" layer cake. As with all of Rose Levy Berenbaum's recipes, if you are meticulous in weighing the ingredients and following directions, you will be rewarded with a perfect cake. It's best to bake the cakes at least the day before as it allows time for the lemon syrup, which is applied to the warm layers, to become more evenly distributed.

The frosting is a little unusual as it starts with a white chocolate custard base to which butter is added. Though easy to make, the custard is extremely temperature sensitive so an accurate thermometer is a must. It keeps well in the fridge or freezer so can be made in advance.

The lemon, almond and white chocolate flavours complement each other perfectly, without one overwhelming any of the others. Though delicious, the cake is very rich so a little goes a long way; its moist, dense texture lends itself well to very thin slices.

The cake recipe also appears in the book as the "Golden Lemon Almond Cake", a bundt-style cake, on page 37. I've linked to a review of that recipe as well as one for the buttercream.


Login or register to add your own review of this recipe.