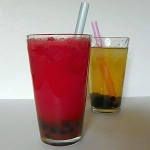 Melon Bubble Tea (Boba Tea)
Cuisine: Asian | Course Type: Beverages

View photos
(1)
Tags: vegan coconut milk
Recipe Reviews
A fun and refreshing drink!

I was thrilled when I discovered the tapioca pearls in an Asian grocery store – it meant I was no longer at the mercy of the bubble tea establishments that have resorted to using fruit syrups instead of fresh fruit.

It does take a little time to prepare but none of the steps is particularly difficult. First, the tapioca is cooked, drained and chilled. I find that the cooking time does vary slightly with the brand used and also with the degree of chewiness you prefer. I normally cook mine for only 15 minutes and allow it to sit in the water for an additional 15 before draining.

This recipe calls for you to sweeten the tea. Because the sweetness of the fruit used will affect the amount of sugar required, I leave the tea unsweetened and make a simple syrup (equal parts sugar and water, boiled together until the sugar has dissolved) in which I chill the cooked tapioca. I add only as much as is needed to the blended fruit/juice/milk mixture.

I used watermelon for this batch with a fieldberry juice – any combination of complementary fruit and juice would work. I like the use of coconut milk in this recipe – it works very well with the melon, adding another level of flavour.

Login or register to add your own review of this recipe.