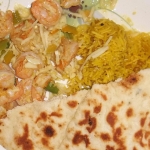 Savory Garlic Shrimp with Chiles, Tamarind, and Sesame Seeds
Page 278
Cuisine: Indian | Course Type: Main Courses

View photos
(2)
Tags:
Recipe Reviews
The recipe says "A quick glance at the ingredients here might make you wonder if the chilies and garlic are overpowering. However, a mouthful of this curry will squelch that initial doubt." We made this with reconstituted coconut and serrano chilies. This was too hot for us, and I can take some heat! We've decided to half or at least use less chilies than called for, or even use jalapenos instead of serranos (which is the only of the 3 they usually list - serrano, red Thai, cayenne - that I can redily find in my city) to reduce the heat. It took several minutes for our lips and mouths to stop tingling.

The recipe was ok, and we liked it, but won't make it again. I have some other favorites in this book and keep returning to it.
Login or register to add your own review of this recipe.