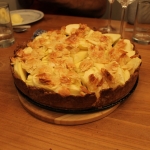 Apple Pie with an Almond Crust / Appeltaart met Amandelkrokant
Page 44
Cuisine: Dutch/Belgian | Course Type: Desserts

View photos
(2)
Tags: almonds apples hazelnuts nuts pastry apple pie apple dessert fruit cakes and pies cakes and pies with nuts
Recipe Reviews
Amazing! The crust (made with 30g ground almonds and 30g ground hazelnuts because our almond supply was up) and the almond crust were extremely delicious, though the apples were pretty much uncooked. For really perfect results, perhaps you'd have to pre-cook them for 10 min or so?

As usual, I had my difficulties with the dough, this time because it was quite crumbly due to the addition of the ground nuts, but that was solved with the use of a springform pan.

It all looked very pretty, though shortly after cutting the pie, it all fell into pieces. We served it with David Lebovitz' Vanilla Ice Cream, and the combination was great.

Edited 29 September 2013:
I had a different problem this time: the dough was too wet! I made it in the food processor this time, and didn't do that last year, so that might be one difference; I also thought that perhaps I didn't use the 2 tbsp milk last time, though now that I read that I complained that the dough was crumbly, I cannot imagine that I didn't add them. In any case, the dough was difficult to handle because it was too wet and kept tearing and sticking, so I added more flour and ground hazelnuts and almonds, and made sure it was really cold.

Unfortunately the almond crust (on top) wouldn't turn gold, so I had to bake it about 10-15 min. longer. That didn't really result in a very crunchy cake though. I served it the next morning (within 12 hours of baking), and it completely fell apart or stuck to the pan. DH liked that it was moist, but actually both the almond topping and the dough/crust should have been crunchy. I guess I'll have something to practice...

Edited 17 September 2015:
Yes, it's nearly that time of the year again. No, not autumn - hubby's birthday!

This year I decided to test the cake before making it for another birthday party; I wanted to know why the pastry had gone so wrong last time - was it because I used a kitchen machine? Or did I maybe omit the milk the first time, but not the second? I decided to make two smaller cakes to find out.

I didn't have any ground almonds (or at least I couldn't find them), so I used ground hazelnuts exclusively, and I made both pastries with a handheld kitchen machine, adding the flour at the very end and using my hands to mix it. The recipe, by the way, makes no mention of the fact that you should add the flour at the very end and handle it gently, without kneading too much.

I made one pastry without milk, the other with 1 tbsp milk; I let both of them rest in the fridge and made the milk-less one the next morning, the other one only three days later (yikes) - but that actually turned out well, because while felt was too wet the first day, but it was less so on day three.

With these pastries, I was able to bake two beautiful pie crusts. It were the following few steps were everything went wrong. You're instructed to blind-bake the pastry for 15 min, then bake another 10 min without the weights - this means that the edges, if they are not covered by the weights, will get much darker than the bottom of the crust - I'm mentioning this because I would probably need at least 1 kg of beans to achieve this for only half a recipe of pastry!. Also, it means that the bottom will be considerably less crunchy than the edges.

Unfortunately, though, my biggest problem was linked to this, as the apples (Granny Smith in both cases - not sure what I used in previous years, quite likely Granny Smith) emitted lots of juices and drenched the bottom of the pie - there was a very narrow time window, if at all, where the pie was cooled down and the bottom of the crust was still crunchy.

Also, I baked both pies for an additional 10 min to let the almond crust turn golden - it hardly did, though, and it never really got very crunchy. I probably should have placed it under the grill, or maybe a slightly higher temperature would have helped.

In a way, I was lucky that this cake turned out so well the first time, or else I never would have made it again. It does need a lot of tweaking, though. For this year's party I might resort to this cake, and continue my experiments at another time.
(edited 20th September 2015) (0) comment (1) useful
Login or register to add your own review of this recipe.