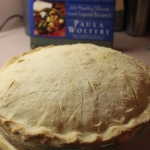 Macedonian Phyllo Dough
Page 69
Cuisine: Mediterranean | Course Type: Main Courses

View photos
(1)
Tags:
Recipe Reviews
This dough was prepared for this pie, by my husband (!). It seemed to come together quite easily, although he forgot to brush olive oil on the dough as he folded it. We could sense the layers, and it still was a very nice dough, so I think it has real potential.
(edited 10th October 2012) (0) comment (0) useful
Login or register to add your own review of this recipe.