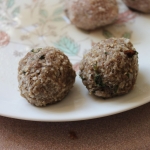 Kibbeh with Eggplant and Sumac
Page 278
Cuisine: Middle Eastern | Course Type: Main Courses

View photos
(2)
Tags: cookbook club
Recipe Reviews
An amazing and impressive main dish, and its preparation was quite the undertaking. This recipe is from Aleppo, Syria, and considered the "cadillac of kibbeh".

I prepared this dish for my cooking club (this book and Paula Wolfert's Moroccan cookbook were used for our selections). It represented several firsts - including my first use of sumac and my first time making (or even eating) kibbeh. I prepared it once for just the family before undertaking it for dinner for 12.

First one prepares a stuffing (onion, lamb, pine nuts, spices, and yogurt). Then one prepares the kibbeh shell (fine bulgur, lamb, onion, water, spices). The kibbeh shell is made into a ball, then hollowed by inserting your finger and repeatedly pushing the inside toward the out. A key step is the bowl of cold water with corn starch and salt. It took a bit of playing with it, but wasn't too hard. I definitely got better over time, too. When these are formed, you add the filling and close them up. Then you steam them.

As if this isn't enough work, you then make a lamb stew with eggplant. This stew is what takes the sumac, and I loved the lemony flavor it gave the stew. Finally, you add the kibbeh to the stew for the last 15 minutes before serving.

I had a bit of trouble with my kibbeh splitting open while steaming. It seems to be related to the bulgur swelling more during the steaming process, and this might not be such a problem for the fried kibbeh. I've included pictures of the raw ones and the same ones after steaming. You can see the appearance of white grains - the bulgur - after cooking. I think with practice one could figure out how to get the bulgur to swell fully before forming and cooking. But really, it didn't matter at all, one couldn't tell in the stew.

Unfortunately I didn't get a picture with the stew -- but it was a rich red color with lovely eggplant slices.
(edited 18th March 2013) (2) comment (1) useful
Login or register to add your own review of this recipe.